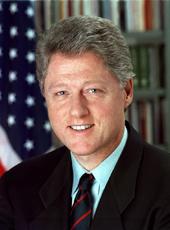 Statement on Signing the Hillory J. Farias and Samantha Reid Date-Rape Drug Prohibition Act of 2000
Today I am pleased to sign into law H.R. 2130, the "Hillory J. Farias and Samantha Reid Date-Rape Drug Prohibition Act of 2000." I applaud the sponsors of this important legislation.
This legislation will, among other things, place gamma hydroxybutyric acid (GHB)—a drug that is abused for its psychoactive effects and, less frequently but more perniciously, used as a tool by sexual predators—in Schedule I of the Controlled Substances Act (CSA). Making GHB a Schedule I controlled substance appropriately reflects the Congress' judgment that GHB has a high potential for abuse by sexual predators; that its possession and distribution should therefore be prohibited; and that violators should be subject to stringent criminal sanctions.
The Act directs the Secretary of Health and Human Services (HHS) to develop and implement a plan for a national campaign to educate young adults, youths, law enforcement personnel, educators, school nurses, rape victim counselors, and hospital emergency room personnel on: (1) the dangers of date-rape drugs; (2) the applicability of the CSA to such drugs, including penalties; (3) how to recognize signs that an individual may be a victim of such drugs, and (4) the appropriate response when an individual exhibits such symptoms. The Act also requires HHS to collect data on the incidence of date-rape drug abuse and report the information annually to the Congress.
The Act will not impede ongoing research into the potential legitimate use of this drug to treat the special needs of those suffering from narcolepsy. Indeed, this Act creates a special exemption that provides that the manufacture and distribution of this drug for properly approved research purposes will be subject to the physical security requirements of Schedule III rather than Schedule I.
In approving H.R. 2130, I note that section 8(c)(1) of the bill requires the Attorney General to submit to the Committees on the Judiciary of the Senate and the House of Representatives a report that sets forth the recommendations of a unit of the Drug Enforcement Administration, an entity within the Department of Justice. By mandating the disclosure of an internal Department recommendation, this provision infringes on my constitutional responsibility to preserve the confidentiality of executive branch deliberations. Accordingly, I shall construe the provision to be advisory, and I hereby direct all executive branch officials to do likewise.
I would like to acknowledge the tireless efforts of those Members of Congress who brought about passage of this important legislation: Representatives Fred Upton, Sheila Jackson-Lee, Bart Stupak, Sherrod Brown, and Michael Bilirakis and also Senators Spencer Abraham and Orrin Hatch. Their efforts have strengthened the rights and safety of thousands of women, and we owe them a debt of gratitude for the leadership they have shown in bringing this issue to our Nation's attention.
WILLIAM J. CLINTON
The White House, February 18, 2000.
NOTE: H.R. 2130, approved February 18, was assigned Public Law No. 106-172.
William J. Clinton, Statement on Signing the Hillory J. Farias and Samantha Reid Date-Rape Drug Prohibition Act of 2000 Online by Gerhard Peters and John T. Woolley, The American Presidency Project https://www.presidency.ucsb.edu/node/228196