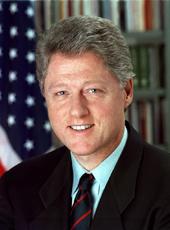 Statement on Signing the Higher Education Amendments of 1998
Today I am pleased to sign into law H.R. 6, the "Higher Education Amendments of 1998." This legislation is the culmination of bipartisan efforts by the Congress and my Administration to increase access to college, make higher education more affordable, improve teacher quality, and modernize the delivery of student aid. I particularly want to thank Senators Jeffords, Coats, Kennedy, and Dodd, and Representatives Goodling, McKeon, Clay, Kildee, Andrews, and Petri, as well as other Members of the Conference Committee, for their help in guiding this legislation through the Congress.
I also owe a particular debt of gratitude of Representative Fattah, whose consistent and tireless work resulted in a new effort that will turn the dream of college into a reality for many of the poorest families in America. The "GEAR UP" program, based in part on my High Hopes for College proposal, provides competitive grants to States and local partnerships to encourage colleges to work with middle schools in highpoverty areas to ensure that students receive and benefit from financial aid information, rigorous courses, tutoring, mentoring, and scholarships for college.
I am pleased to see a number of my other initiatives included in this bipartisan legislation. College students across the country will save hundreds or even thousands of dollars on their loan repayments with the extension of the low student loan interest rate on new loans that went into effect on July 1st of this year. In addition, the bill allows borrowers to refinance outstanding loans at a lower rate by extending for 4 months the current interest rate on Direct Consolidation Loans. The bill, however, is not perfect. It is unfortunate that the legislation permits continuation of the practice of providing excessive payments to lenders and guaranty agencies instead of reducing taxpayer costs by using competitive market forces. In addition, it is regrettable that the legislation does not allow more than 4 months for the millions of Americans who are paying high interest rates on their current student loans to get the new low consolidation rate, or make that rate available to all borrowers. I urge the Congress to revisit these issues in the future.
This bill builds upon the proposals I sent to the Congress to improve teacher quality, training, and recruitment as our Nation faces the need to hire more than two million teachers over the next 10 years. New partnerships between teacher education institutions and school districts, partnerships to improve teacher recruitment, Teacher Quality Enhancement State grants, and increased accountability will help improve teacher quality for all our children. I am also pleased that the Congress did not prohibit Federal funding for the National Board for Professional Teaching Standards.
This legislation will promote high-quality distance-learning opportunities to provide students, including non-traditional students, with increased educational opportunities. The Learning Anytime, Anywhere Partnership (LAAP) program, as I proposed, will award competitive grants to partnerships to create new distancelearning models, explore the efficiencies and cost reductions that can be realized through institutional partnerships, and develop innovative measures of student achievement through distance learning.
I am also pleased that H.R. 6 reauthorizes and improves upon many programs in the current Higher Education Act designed to promote equal educational opportunity. In particular, I would like to commend Representative Hinojosa for his work to increase funding levels and improve programs for students attending Hispanicserving institutions. I am also pleased that H.R. 6 reauthorizes the Education of the Deaf Act, which supports Gallaudet University and the National Technical Institute for the Deaf, and strengthens programs to support tribal and historically black colleges and universities.
The bill also revolutionizes the delivery of student aid by creating within the Government the first-ever Performance-Based Organization (PBO)—a concept promoted by Vice President Gore's National Partnership for Reinventing Government—to improve services to students and enhance administrative efficiency and accountability. I am delighted with this bipartisan effort to modernize student aid delivery in the Department of Education.
I do note some constitutional concerns regarding provisions in this bill relating to the appointment and reappointment of the Chief Operating Officer of the PBO, and the issuance of regulations regarding student loan repayment incentives that would have to be certified by the Congressional Budget Office. While I do not regard these provisions as binding, the Secretary of Education as a matter of policy will implement these provisions so far as possible in a manner consistent with the principles embodied in the legislation.
There are costs associated with H.R. 6 after fiscal year 1999 that are not fully offset under Administration budget scoring. Under the Budget Enforcement Act, a sequester of mandatory programs will be required in future years if savings to offset the costs of this Act are not enacted. My Administration will work with the Congress to offset these costs to avoid a potential sequester.
This bill represents a positive, bipartisan advancement for students, teachers, and the future of higher education. Now the Congress must take the critical next step, providing full funding for the new initiatives this legislation creates—GEAR UP, teacher preparation and recruitment, and LAAP—for fiscal year 1999. I look forward to working with the Congress to ensure this funding is made available.
WILLIAM J. CLINTON
The White House, October 7, 1998.
NOTE: H.R. 6, approved October 7, was assigned Public Law No. 105-244.
William J. Clinton, Statement on Signing the Higher Education Amendments of 1998 Online by Gerhard Peters and John T. Woolley, The American Presidency Project https://www.presidency.ucsb.edu/node/224817