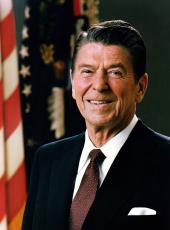 Statement on Signing the Higher Education Amendments of 1986
I have signed S. 1965, the Higher Education Amendments of 1986. This bill extends and amends through fiscal year 1991 the Higher Education Act of 1965, a source of Federal assistance to millions of American students and thousands of educational institutions. This administration has always supported, and will continue to support, programs properly designed to help our neediest young people acquire higher education.
Several program improvements and cost-saving measures have been included in this bill, including provisions to reduce and better focus student loan subsidies, as well as to improve student loan collections and reduce defaults. I am particularly pleased that S. 1965 includes authority for an income-contingent direct student loan demonstration project, based upon proposals made by the administration. I believe this project, which allows borrowers to finance more of their own college costs more easily out of their long-term earnings, may signal an important, new direction in the financing of postsecondary education.
I do have serious concerns about S. 1965, however. The bill does little to meet the administration's major objectives for higher education: restoring more appropriate and equitable student aid funding roles to States, schools, students, and their families; targeting assistance on truly needy students; and eliminating excessive subsidies to intermediary institutions such as banks, schools, and loan guarantee agencies. S. 1965 also fails to simplify and streamline the major student aid programs; to reduce fraud and error; and to cut the extremely burdensome and unnecessary red tape with which students, parents, schools, lenders, and others now struggle. In the same vein, S. 1965 improperly limits the discretion of the Secretary of Education to manage these programs effectively, particularly in areas such as controlling the use of federally tax-exempt instruments to finance student aid and verifying the accuracy of basic aid application information. Making excessively complex programs even more complicated, and then denying their chief administrator the tools to operate them efficiently and effectively, is an invitation to program abuse.
In this time of continued need for budgetary restraint, S. 1965 ignores the serious question of how the taxpayer would finance the cost of new and expanded programs. This bill authorizes the appropriation of over $57 billion for the 5-year authorization period, which is $13 billion, or 30 percent, more than what would he needed to fund higher education programs under current law. S. 1965 is $30 billion, or 100 percent, over my budget request for the 1987-91 period. I am also advised by the Justice Department that section 1321 of the bill poses a potential constitutional problem. That section purports to create a new commission as an independent agency within the executive branch, but does not provide for the appointment of the members of the commission in a manner consistent with the appointments clause. I sign this bill, therefore, on the understanding that this body is not an independent agency within the executive branch, but an advisory commission charged with making recommendations to the Congress.
There are many other provisions of this bill I do not support—unnecessary new programs and special projects for individual schools, for example. I am signing this bill because the basic Higher Education Act authorities provide aid to deserving students and support important programs. However, the administration remains committed to improving the higher education programs and to reducing their costs to the American taxpayer. We will continue to propose necessary changes and cost savings.
Note: S. 1965, approved October 17, was assigned Public Law No. 99-498.
Ronald Reagan, Statement on Signing the Higher Education Amendments of 1986 Online by Gerhard Peters and John T. Woolley, The American Presidency Project https://www.presidency.ucsb.edu/node/254116