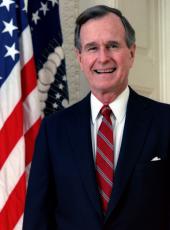 Statement on Signing the Fort Hall Indian Water Rights Act of 1990
Today I have signed H.R. 5308 the "Fort Hall Indian Water Rights Act of 1990." The agreement implemented by this Act is the end product of 5 years of intense, good-faith negotiation among the parties with competing claims to the waters of the Upper Snake River Basin in Idaho. These parties include the Shoshone and Bannock Indian Tribes, non-Indian water users, the State of Idaho, and the Departments of Justice and the Interior on behalf of the United States and as trustee of the Tribes' water rights. I applaud the spirit of compromise that allowed the parties to resolve their differences without the need to resort to the costly and often divisive litigation by which many other western water disputes are decided.
H.R. 5308 is acceptable to the Administration for several reasons. First, it contains a very favorable quantification of the Shoshone and Bannock Tribes' water rights and also provides certain storage and marketing rights that further enhance the value of those rights. Second, it fully protects the interests of the United States and other potentially affected tribes. Third, it settles with finality virtually all disputes and litigation over the water at issue, allowing all parties -- State, local, and tribal -- to proceed confidently in the use and development of their water rights. Finally, it does all of this with a relatively modest Federal contribution, in accordance with the Administration's criteria and procedures for Indian water rights claim settlements, and without the necessity for Federal construction of significant new storage or irrigation facilities.
Unfortunately, very late in the legislative process and without a request for Administration comment, the Congress included an objectionable provision in the implementing legislation. Section 8(c) could be interpreted to allow the Tribes to collect from the Claims and Judgment Fund monies that the Act authorizes to be appropriated and paid to the Tribe, should such monies not be appropriated by the Congress within specified periods. So interpreted, this provision would constitute a circumvention of the normal appropriations process and an unwarranted use of the Claims and Judgment Fund.
Owing to the many otherwise redeeming aspects of H.R. 5308, and the unique circumstances surrounding the addition of the objectionable provision to Section 8(c), I have signed H.R. 5308. I am quite concerned, however, that the objectionable provision might become a precedent for the inclusion of similar provisions in future legislation, which would not be acceptable to the Administration. Accordingly, I have directed the Secretary of the Interior, the Attorney General, and others to communicate in the future a firm policy against the inclusion of such provisions in future legislation, the violation of which will lead to Executive disapproval.
George Bush
The White House,
November 16, 1990.
Note: H.R. 5308, approved November 16, was assigned Public Law No. 101 - 602.
George Bush, Statement on Signing the Fort Hall Indian Water Rights Act of 1990 Online by Gerhard Peters and John T. Woolley, The American Presidency Project https://www.presidency.ucsb.edu/node/264855