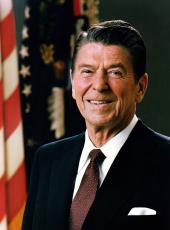 Statement on Signing the Foreign Relations Authorization Act, Fiscal Years 1988 and 1989
I have today signed H.R. 1777, the "Foreign Relations Authorization Act, Fiscal Years 1988 and 1989." Certain issues raised by its provisions, however, require comment.
Under our constitutional system of separation of powers, the President has special responsibilities in the area of foreign affairs. As the Supreme Court noted in United States v. Curtiss-Wright Export Co., the President is "the sole organ of the Federal government in the field of international relations." Certain provisions in H.R. 1777, however, could be construed so as to interfere with the discharge of these responsibilities. The Act forbids the closing of any consulates and requires both the initiation of specific foreign negotiations and the termination of the United States-Soviet Embassy Agreements. I am signing the Act only because, pursuant to House Joint Resolution 395 (the continuing appropriations measure which I also signed today), these provisions will not take effect until two years from today. During the remainder of my Administration, I shall seek repeal of these provisions.
Other provisions of H.R. 1777 require or prohibit the initiation of negotiations in the field of international relations. Consistent with my constitutional responsibility to conduct these negotiations, I construe these provisions as being subject to my exclusive authority to determine the time, scope, and objectives of any negotiations.
Section 1003 of the Act prohibits the establishment anywhere within the jurisdiction of the United States of an office "to further the interests of" the Palestine Liberation Organization. The effect of this provision is to prohibit diplomatic contact with the PLO. I have no intention of establishing diplomatic relations with the PLO. However, the right to decide the kind of foreign relations, if any, the United States will maintain is encompassed by the President's authority under the Constitution, including the express grant of authority in Article II, Section 3, to receive ambassadors. I am signing the Act, therefore, only because I have no intention of establishing diplomatic relations with the PLO, as a consequence of which no actual constitutional conflict is created by this provision.
Under Section 163 of the Act the Department of State, by regulation, shall implement a program of counter-intelligence polygraph examinations for members of the Diplomatic Security Service. I am interpreting this requirement consistent with my position concerning the discretion of agency heads to determine when polygraph examinations will be conducted in specific cases.
Finally, in signing this Act I intend, as I understand the Congress intended, that in those instances where there is any inconsistency between this Act and H.J. Res. 395 the provisions of H.J. Res. 395 control.
RONALD REAGAN

The White House,

December 22, 1987.
Note: H.R. 1777, approved December 22, was assigned Public Law No. 100-204.
Ronald Reagan, Statement on Signing the Foreign Relations Authorization Act, Fiscal Years 1988 and 1989 Online by Gerhard Peters and John T. Woolley, The American Presidency Project https://www.presidency.ucsb.edu/node/251911