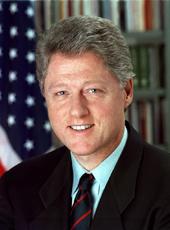 Statement on Signing the Federal Aviation Administration Authorization Act of 1994
I am pleased to sign into law H.R. 2739, the "Federal Aviation Administration Authorization Act of 1994." It is exceedingly satisfying when legislation is presented for enactment that reflects both of the things the American people want from their Government—action by the Government when clearly needed and action to eliminate Government regulation when it proves counterproductive.
When I came into office, the aviation industry was struggling with large losses, reduced airline travel because of the recession, and a loss of aircraft orders at many of our biggest manufacturers. The problems ran deep. I know because I visited businesses to get an idea of the extent of the problems. In the face of these problems, the Government did not sit back.
With the support of the industry and other interested groups, we enacted amendments to the law that created the National Commission to Ensure a Strong Competitive Airline Industry.
Building on the Commission's recommendations, the Administration acted quickly, setting forth in our "Initiative to Promote a Strong Competitive Aviation Industry" a comprehensive strategy to address the basic issues and problems.
That initiative has borne fruit. Of course, our successful economic program is the foundation for the much better financial results we see in the aviation sector. But now the Congress has acted to translate specific Commission recommendations and those we offered in January into effective legislation, giving the industry a stable basis for further recovery.
The legislation that I am approving today sets in place a solid, multi-year authorization for Federal aviation activities. This authorization will serve as a foundation for concerted action on important and varied matters, such as quickly implementing the new Global Positioning System in the aviation sector. This bill also fulfills part of my pledge to emphasize economically valuable infrastructure investment as the way to keep our Nation competitive across the board. This year, we will have committed nearly $1.7 billion to new airport development and planning grants. Overall, I believe the legislation sends the right signal—that the aviation sector continues to be a prime contributor to this country's economic health.
Just as important, this legislation is proof that we can end Government activities when they have outlived their usefulness. My Administration strongly supported Title VI of the bill, which was designed to remove conflicting State laws, unrelated to safety, that impede efficient intermodal freight transportation. We also urged that Title VI be expanded to increase the efficiency of all commercial truckers. Fortunately, the Congress did expand it.
State regulation preempted under this provision takes the form of controls on who can enter the trucking industry within a State, what they can carry and where they can carry it, and whether competitors can sit down and arrange among themselves how much to charge shippers and consumers. Taken together in the 41 States that do this, this sort of regulation costs consumers up to $8 billion per year in extra expenditures by increasing the freight transportation cost of everything we buy. That doesn't even count the costs of additional inventories and extra miles as companies try to escape the unnecessarily high cost of hauling their products on an intrastate basis by locating their plants far away from their consumer markets and crisscrossing State lines. Many firms have done so just to take advantage of interstate freight rates made cheaper due to the deregulation proposal of President Carter in 1980.
I fully expect that this legislation will have effects similar to those of the 1980 deregulation law. New carriers will be able to enter the trucking industry, particularly women-and minority-owned carriers who may have been "frozen out" in the past by strict entry controls. Freight rates will become more competitive, truck service will become better and more reliable even in small, out-of-the-way communities, and employment in the trucking services industry will increase substantially.
Thus, the current legislation is not only a significant addition to our economic stimulus program, it will also save consumers billions of dollars every year.
For these reasons, I am pleased to sign into law the "Federal Aviation Administration Authorization Act of 1994."
WILLIAM J. CLINTON
The White House, August 23, 1994.
NOTE: H.R. 2739, approved August 23, was assigned Public Law No. 103-305.
William J. Clinton, Statement on Signing the Federal Aviation Administration Authorization Act of 1994 Online by Gerhard Peters and John T. Woolley, The American Presidency Project https://www.presidency.ucsb.edu/node/218297