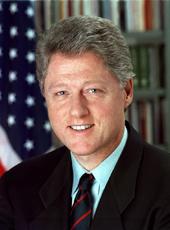 Statement on Signing the Dietary Supplement Health and Education Act of 1994
Today I am pleased to sign S. 784, the "Dietary Supplement Health and Education Act of 1994." After several years of intense efforts, manufacturers, experts in nutrition, and legislators, acting in a conscientious alliance with consumers at the grassroots level, have moved successfully to bring common sense to the treatment of dietary supplements under regulation and law.
More often than not, the Government has been their ally. And the private market has responded to this development with the manufacture of an increasing variety of safe supplements.
But in recent years, the regulatory scheme designed to promote the interests of consumers and a healthful supply of good food has been used instead to complicate choices consumers have made to advance their nutritional and dietary goals. With perhaps the best of intentions agencies of government charged with protecting the food supply and the rights of consumers have paradoxically limited the information to make healthful choices in an area that means a great deal to over 100 million people.
And so, an historic agreement was finally reached in the Congress this year that balances their interests with the Nation's continued interest in guaranteeing the quality and safety of foods and products available to consumers. This agreement was embodied in S. 784, legislation sponsored in the Senate by Senator Orrin Hatch and Senator Tom Harkin, in the House by Congressman Bill Richardson, and passed with the help of Senator Edward Kennedy, Congressman John Dingell, Congressman Henry Waxman, and scores of cosponsors in the House and Senate.
Simply said, the legislation amends the Federal Food, Drug, and Cosmetic Act to establish new standards for the regulation of dietary supplements including vitamins, minerals, and herbal remedies.
The passage of this legislation speaks to the determination of the legislators involved, and I appreciate their work. But most important, it speaks to the diligence with which an unofficial army of nutritionally conscious people worked democratically to change the laws in an area deeply important to them. In an era of greater consciousness among people about the impact of what they eat on how they live, indeed, how long they live, it is appropriate that we have finally reformed the way Government treats consumers and these supplements in a way that encourages good health.
WILLIAM J. CLINTON
The White House, October 25, 1994.
NOTE: S. 784, approved October 25, was assigned Public Law No. 103-417. This statement was released by the Office of the Press Secretary on October 26.
William J. Clinton, Statement on Signing the Dietary Supplement Health and Education Act of 1994 Online by Gerhard Peters and John T. Woolley, The American Presidency Project https://www.presidency.ucsb.edu/node/217870