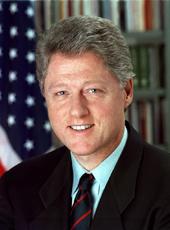 Statement on Signing the Departments of Veterans Affairs and Housing and Urban Development, and Independent Agencies Appropriations Act, 1998
I have signed into law today H.R. 2158, the "Departments of Veterans Affairs and Housing and Urban Development, and Independent Agencies Appropriations Act, 1998."
This Act will fund vital environmental, veterans, housing, community development, space, and science programs. Specifically, it provides funding for the Departments of Veterans Affairs and Housing and Urban Development, the Environmental Protection Agency, the National Aeronautics and Space Administration, the National Science Foundation, and several other agencies.
The Act funds a number of my Administration's high priorities, including the Corporation for National and Community Service and the Community Development Financial Institutions (CDFI) fund. National Service gives young people the opportunity to obtain funded for a college education while serving the country in areas of great need, such as the environment, public safety, and human services. While the Congress did not fully meet my request for America Reads within National Service, there are funds to give additional tutors the opportunity to help young students in their community. Funding for CDFI will increase the flow of capital to distressed neighborhoods and their currently underserved low-income residents, and provide financing for neighborhood redevelopment and revitalization efforts.
The Act provides $7.4 billion for the EPA, which will enable the agency to adequately enforce our environmental laws. I am pleased that H.R. 2158 fully funds my request for the Drinking Water State Revolving Fund, adequately funds the Clean Water State Revolving Fund, and provides an advance appropriation for Superfund, the EPA's major program that ensures the continued cleanup of hazardous waste sites. I am, however, concerned about reductions to the 1998 requested levels for Superfund, the U.S. Climate Change Action Plan, the Montreal Protocol efforts to prevent ozone layer depletion, and EPA's right-to-know programs. These reductions impede our ability to clean up 900 Superfund sites by the year 2000, hamper our ability to meet our international commitments on climate change and ozone depletion, and deprive our citizens of needed environmental information.
The Act provides $24 billion in funding for the Department of Housing and Urban Development (HUD), including full funding for my request to renew expiring Section 8 contracts, thus assuring continuation of HUD rental subsidies for low-income tenants in privately owned housing. Funding is also provided for programs such as the HOME Investment Partnership program, Community Development Block Grants, and HOPE VI for severely distressed public housing. I am pleased that the bill continues to support States and cities through these vital economic development programs. The Act also funds my request for Brownfields redevelopment, an initiative to redevelop abandoned sites and return them to productive uses and thereby help communities revitalize these areas. The Act also fully funds my requests for Homeless Assistance Grants and Housing Opportunities for Persons with AIDS, and provides funding, although not my full request, for antidiscrimination efforts, including the Fair Housing Initiatives program.
The Act contains a major initiative to reduce the costs of Section 8 contract renewals for FHA-insured properties. The Act recognizes the gravity of the situation and provides HUD with many new tools. At the same time, I am concerned that provisions within the Act could limit FHA's ability to design efficient partnerships, increasing costs to the FHA insurance fund, and could restrict opportunities for assisted tenants to use portable vouchers to seek out the housing that best meets their particular needs. I am also concerned that there is no direct and explicit solution for the tax consequences that threaten the restructuring process.
The Act fully funds my request of $17.6 billion for the medical care of this Nation's veterans and contains my requested user fee proposal, funded at $0.6 billion. This new revenue source gives the Department of Veterans Affairs the incentive to improve its collections while ensuring more control over its future viability as a health-care provider.
Unfortunately, the Act also eliminates funding for the U.S. Office of Consumer Affairs, which has served Presidents of both parties over three decades. I will work to ensure that a consumer voice is maintained from existing agency resources.
WILLIAM J. CLINTON
The White House, October 27, 1997.
NOTE: H.R. 2158, approved October 27, was assigned Public Law No. 105-65.
William J. Clinton, Statement on Signing the Departments of Veterans Affairs and Housing and Urban Development, and Independent Agencies Appropriations Act, 1998 Online by Gerhard Peters and John T. Woolley, The American Presidency Project https://www.presidency.ucsb.edu/node/222905