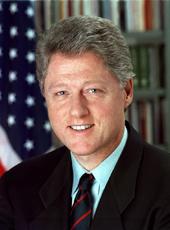 Statement on Signing the Departments of Veterans Affairs and Housing and Urban Development, and Independent Agencies Appropriations Act, 1999
Today I have signed into law H.R. 4194, the "Departments of Veterans Affairs and Housing and Urban Development, and Independent Agencies Appropriations Act, 1999."
This Act will fund vital environmental, veterans, housing, community development, space, and science programs. Specifically, it provides funding for the Departments of Veterans Affairs (VA) and Housing and Urban Development (HUD), the Environmental Protection Agency (EPA), the National Aeronautics and Space Administration, the Federal Emergency Management Agency (FEMA), the National Science Foundation, and several other agencies.
The Act funds a number of my Administration's high priorities, including the Corporation for National and Community Service and the Community Development Financial Institutions (CDFI) fund. National Service gives young people the opportunity to obtain funding for a college education while serving the country in areas of great need, such as the environment, public safety, and human services. The CDFI fund is helping to create a network of community development banks across the country, thereby spurring the flow of capital to distressed neighborhoods and their currently underserved low-income residents and providing financing for neighborhood redevelopment and revitalization efforts. That is why I am pleased that the Congress agreed to a 19 percent increase in funding for CDFI.
The Act provides $7.56 billion for the EPA, which will enable the agency to enforce our environmental laws adequately. I am pleased that the Congress modified language in the Act concerning the Kyoto Protocol on global climate change and clarified what this language means in the Statement of Managers. In particular, the Congress made it clear that it does not intend to limit my Administration's ability to carry out common-sense actions to reduce greenhouse gas emissions; its intent, rather, is only to limit funding that would implement actions called for solely under the Kyoto Protocol. As we have said on many occasions, my Administration will not seek to implement that Protocol prior to its ratification by the Senate. I am also pleased that H.R. 4194 fully funds my request for EPA's portion of the Clean Water Action Plan and the Drinking Water State Revolving Fund, and adequately funds the Clean Water State Revolving Fund.
The Act provides $24.4 billion in funding for the Department of Housing and Urban Development, including full funding for my request to renew expiring Section 8 contracts, thus assuring continuation of HUD rental subsidies for low-income tenants in privately owned housing and 50,000 additional welfare-to-work housing vouchers to assist those welfare recipients for whom housing assistance is critical to getting or keeping a job. This Act provides increased funding to help revitalize communities through such programs as the HOME Investment Partnership; Community Development Block Grants; and HOPE VI, an initiative for severely distressed public housing and Brownfields redevelopment, which returns abandoned sites to productive uses. I am pleased that the bill continues to support States and cities through these vital economic development programs.
As I requested, the Act provides increased funding for Homeless Assistance Grants and Housing Opportunities for Persons with AIDS and for anti-discrimination efforts, including the Fair Housing Initiatives program. The Act also increases funds for the Office of Lead Hazard Control to reduce the risk of childhood lead poisoning and other health hazards.
I am encouraged by our efforts to work with the Congress to provide additional resources for a number of our priority programs in the FY 1999 Omnibus appropriations bill.
The Act includes my Administration's proposal to reform HUD's single-family property disposition program, which would produce substantial savings by improving the efficiency of the Federal Housing Administration's (FHA's) property disposition processes. In addition, H.R. 4194 furthers the Administration's goal to provide greater homeownership opportunities by increasing the FHA loan limit.
The Act also makes landmark housing reform a reality. This bipartisan bill will allow more economic integration and deconcentration in our Nation's public housing; encourage and reward work; provide protections for those most in need; and put the Nation back into the housing business with the first new housing vouchers in 5 years.
I am also pleased that the Act includes $25 million for the Neighborhood Reinvestment Corporation to start my "Play-by the-Rules" homeownership initiative, which would make homeownership more accessible to 10,000 families who have good rental histories, but are not adequately served in the housing market.
Finally, the Act provides $17.3 billion for the medical care of our Nation's veterans.
WILLIAM J. CLINTON
The White House, October 21, 1998.
NOTE: H.R. 4194, approved October 21, was assigned Public Law No. 105-276.
William J. Clinton, Statement on Signing the Departments of Veterans Affairs and Housing and Urban Development, and Independent Agencies Appropriations Act, 1999 Online by Gerhard Peters and John T. Woolley, The American Presidency Project https://www.presidency.ucsb.edu/node/225105