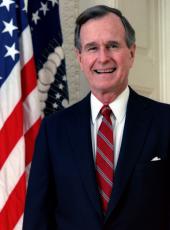 Statement on Signing the Department of Housing and Urban Development Reform Act of 1989
I am today approving H.R. 1, the "Department of Housing and Urban Development Reform Act of 1989." This legislation is intended to help eliminate the systemic flaws that have allowed a number of Housing and Urban Development (HUD) programs to be abused for political purposes or personal gain at the expense of those in need. H.R. 1 will improve program management and financial accountability at HUD and make that Department's programs less susceptible to waste, fraud, abuse, and political influence.
On October 31, 1989, only a few weeks ago, this Administration transmitted to the Congress a package of proposed HUD reforms to improve the practices, procedures, and penalties in existing housing and community development programs and to ensure ethical program management. We asked the Congress to consider these reforms on an emergency basis.
I appreciate the expeditious manner in which our proposed reforms were considered and approved. These reforms at HUD are a necessary part of this Administration's effort to ensure that the highest standards of integrity, efficiency, and fair play will apply throughout the Federal Government.
The speedy enactment of H.R. 1 is a tribute to the work of a great many people. First among them is Secretary of Housing and Urban Development Jack Kemp, who acted swiftly and forthrightly to end the abuses that have plagued HUD's programs. The majority of the ethics, management, and Federal Housing Administration reforms contained in H.R. 1 are the direct result of the rigorous review of HUD programs undertaken by the Department under Secretary Kemp's leadership.
A number of members of Congress also deserve recognition for their leadership and bipartisan cooperation both in the legislative process and in the process of bringing to light and correcting HUD's problems. In particular, I appreciate the efforts of the House Banking Committee under the leadership of its Chairman, Henry Gonzalez, its ranking member, Chalmers Wylie, and the ranking member of the Housing Subcommittee, Marge Roukema. I appreciate also the contributions of their Senate Banking Committee counterparts, Senators Don Riegle, Alan Cranston, Jake Garn, and Alfonse D'Amato. Their bipartisan cooperation was critical to the passage of H.R. 1 before the Congress adjourned this year.
We should also acknowledge the contribution of an oversight subcommittee, the House Government Operations Subcommittee on Employment and Housing, for adding to our understanding of the past problems at HUD. The bipartisan cooperation of subcommittee members like Chairman Tom Lantos, John Kyl, Chris Shays, and Barney Frank contributed to the development of an effective legislative package.
As passed by the Congress, H.R. 1 contains many of the ethics reforms we recommended in our October 31st legislative package. In particular, the bill requires the allocation of housing funds through an open process based either on "fair sharing" or competition as well as public notification of funding decisions. It places strict limitations on the use of discretionary funds by HUD. In addition, it gives HUD the authority to impose civil monetary penalties to better enforce program compliance.
H.R. 1 also makes many of the necessary program reforms that we recommended in our October 31st package. Among them, the bill establishes a Chief Financial Officer for HUD and a Comptroller for the Federal Housing Administration (FHA). It provides for expedited congressional review of HUD regulations, which will give the Department greater flexibility to institute necessary policy and statutory mandates and reforms. I am pleased that the bill also authorizes funds to improve program evaluation and monitoring, thus enabling HUD to use its resources more effectively and efficiently.
Federal Housing Administration insurance is the cornerstone of the Federal Government's efforts to meet the mortgage-financing needs of America's low- and moderate-income families. This Administration is committed to maintaining the FHA in a sound financial condition. H.R. 1 contains provisions to improve the financial soundness of FHA by terminating certain programs. These are Title X insurance for land development, which has experienced default rates of about 50 percent, and FHA insurance for private investors. The investor loan program in essence subsidizes private real estate speculation, rarely benefits first-time homebuyers, and has been the source of fraud and high default rates.
H.R. 1 contains a critical provision reaffirming the authority of the Secretary of Housing and Urban Development to use market comparability studies in setting rents for Section 8 projects. The practical effects of this provision are to limit HUD's retroactive liability under the Rainier View ruling of the Ninth Circuit Court of Appeals and to eliminate HUD's prospective liability to pay arbitrarily high rents that, in many cases, provide financial windfalls to project owners. This provision will avoid a potential loss of up to $2 billion in valuable subsidy funds.
I am disappointed that H.R. 1 fails to include a number of recommendations contained in the October 31st legislative package. In particular, the bill contains no provisions to improve the targeting of Community Development Block Grant (CDBG) funds to low- and moderate-income individuals. At a time when Federal Government resources are scarce, we must do all we can to ensure that CDBG funds are used for the benefit of the people who need them most.
The bill also does not include a proposal to restrict the use of FHA insurance for vacation homes and second homes. Those programs, which provide little or no benefit to low- and moderate-income homebuyers and which expose the insurance fund to unnecessary risk, should be terminated.
H.R. 1 also fails to revise HUD's multifamily property disposition requirements. The Administration's proposal would have streamlined the procedure by which the FHA sells properties acquired in soft rental housing markets. This proposal would have removed the requirement for selling these projects with costly subsidies and permitted the Secretary to guarantee assistance to low-income families with housing vouchers. In soft rental markets, housing vouchers provide the most efficient and least costly form of rental assistance for low-income families.
The Congress should enact these Administration proposals in the coming session.
The bill as passed by the Congress contains a number of provisions that are not directly related to the issue of HUD reform. One such provision would extend until September 30, 1990, the moratorium on the prepayment of HUD-subsidized mortgages in order for the Administration and the Congress to work out a permanent solution to low-income housing preservation. I do not object to this temporary extension, which includes incentives for owners to remain in HUD programs and to maintain their properties for low-income use. However, a prepayment moratorium is no substitute for a permanent program for low-income housing preservation.
On November 10, 1989, I announced a series of housing and urban economic development initiatives called "Homeownership and Opportunity for People Everywhere (HOPE)." Among other things, HOPE includes a low-income housing preservation strategy that includes homeownership opportunities for low-income families. It is critical that in the long term the Congress address not only the needs of project owners but also the desire for homeownership of so many of those who live in assisted housing.
In their work, the commissions and other advisory bodies created by the bill would be authorized to require various agencies to supply certain information upon their request. I sign this bill with the understanding that these provisions do not in any way detract from my constitutional authority to protect the confidentiality of privileged information.
In conclusion, never again must we let the programs of the Department of Housing and Urban Development -- or any other agency -- be abused for political purposes or personal gain. As passed by the Congress, H.R. 1 represents a bipartisan approach to correcting many of HUD's past problems and helping to ensure that in the future that Department will better serve those who depend on its programs.
George Bush
The White House,
December 15, 1989.
Note: H.R. 1, approved December 15, was assigned Public Law No. 101 - 235.
George Bush, Statement on Signing the Department of Housing and Urban Development Reform Act of 1989 Online by Gerhard Peters and John T. Woolley, The American Presidency Project https://www.presidency.ucsb.edu/node/264287