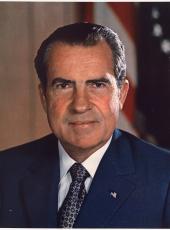 Statement on Signing the Department of Agriculture and Related Agencies Appropriation Act, 1971.
I AM TODAY signing H.R. 17923, the Department of Agriculture and Related Agencies Appropriation Act, 1971, even though it adds $342.5 million in budget authority and a similar amount in budget outlays to the amounts I requested for fiscal year 1971. This bill includes funds for many programs which are essential to farmers and consumers, to the needy, to our rural communities and the agriculture industry, including such important programs as meat inspection, food stamps, child nutrition, farm commodity programs, small watershed projects, rural development activities, and others. We cannot risk possible disruption of programs so essential to so broad a part of our society.
Nevertheless, in addition to my concern over large additions to what I considered to be a fiscally sound budget, I wish to point out several other areas of concern.
My 1971 budget proposed elimination of the Special Milk program. In its place, I supported a greatly expanded and vastly improved Child Nutrition program. The Congress has, for the most part, accepted my recommendations for the Child Nutrition program, but in addition has retained the Special Milk program, adding $104 million to my budget. I have accepted the judgment of the Congress and earlier this year directed the Secretary of Agriculture to implement the Special Milk program for the school year 1970-71. I still believe, however, that in the long run, Government support for food programs should concentrate on helping the needy rather than subsidizing rich and poor alike as the Special Milk program does.
Another program which I recommended for elimination was the Agricultural Conservation program. This program has been in operation for about 35 years assisting farmers in learning about and in establishing practices to conserve he use of their soil and water resources. Dyer the years, however, much of the taxpayers' money in this program has been used to stimulate farm production or to carry out farming practices the Federal Government need not support, rather than to support environmental preservation. For these reasons, four Presidents have proposed elimination or sharp reduction of this program. Congress insists upon continuation. I now propose a changed program.

--Changed to focus upon preserving our environment.

--Changed to focus upon demonstration of good environmental enhancement practices.

--Changed to return more public benefits at less public cost.
In this way, I hope, with the support of the Congress and of the agricultural community, to bring this program into line with the needs of today and tomorrow. I am directing the Secretary of Agriculture and the Director of the Office of Management and Budget to go forward with a program whose funding is consistent with these new directions and to review the management of the program to ensure attainment of these objectives as economically as possible. To lend emphasis to these new dimensions, the program will be renamed the Rural Environmental Assistance program.
My budget request assumed enactment of the proposed amendments to the Food Stamp Act which would permit an expanded Food Stamp program. Immediate action on this important legislation is essential if we are to continue this program beyond January 1, 1971.
This bill also includes a number of increases over my budget request for various programs of the Rural Electrification Administration and the Farmers Home Administration. I am requesting the Secretary of Agriculture and the Director of the Office of Management and Budget to make a critical review of these items and recommend to me appropriate program levels to be implemented.
Note: As enacted, H.R. 17923 is Public Law 91-566 (84 Stat. 1480).
Richard Nixon, Statement on Signing the Department of Agriculture and Related Agencies Appropriation Act, 1971. Online by Gerhard Peters and John T. Woolley, The American Presidency Project https://www.presidency.ucsb.edu/node/240802