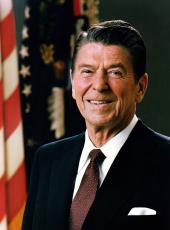 Statement on Signing the Continuing Appropriations for Fiscal Year 1983
Today I am signing into law House Joint Resolution 631, which provides continuing appropriations for the remainder of fiscal year 1983.
There are two major features of this bill that are commendable:
—It marks the first time in 3 years—since fiscal year 1980—that the Congress has completed action on a budget for the full fiscal year before final adjournment. This resolution contains funds for 6 of the 13 regular appropriations bills; funding for the other 7 appropriations has been provided in other measures that have passed the Congress. While I continue to be deeply troubled by the budget-making processes in our government, I am pleased that the appropriations for the current fiscal year have finally been passed.
—Secondly, the level of funding provided in this resolution is consistent with the budget resolution adopted earlier this year by the Congress. To be sure, this bill contains some funds and provisions that I did not seek or prefer, but it does avoid a number of mistakes contained in earlier versions. On balance, the resolution is a significant achievement in our efforts to control discretionary spending.
The principal reason for the Congress to return to Washington for this final session was to complete action on the 1983 budget in a responsible fashion. Enactment of this resolution justifies that effort. I commend the Congress for its endeavors and hard work, especially Senate Majority Leader Howard Baker and House Speaker Tip O'Neill, as well as Appropriations Committee chairmen Mark Hatfield and Jamie Whitten, for completing a challenging task under difficult circumstances.
In order to get America back to work, we need economic growth that only fiscal stability and lower interest rates can provide. To achieve this goal, we must keep a tight leash on Federal spending. By passing a budget consistent with the earlier budget resolutions it committed to follow, the Congress has taken an important step in the right direction.
While spending must be restrained, we must also do our best to ensure that spending changes are fair and equitable. For this reason, I am particularly pleased that this resolution will correct a serious inequity that was inadvertently done to survivors of American veterans in the 1981 Reconciliation Act. This correction, which I strongly supported, restores educational and other benefits for children of veterans—benefits which were mistakenly reduced at that time.
Unfortunately, this resolution also contains a number of provisions about which I have serious reservations. For example, the bill fails to provide specific funds for production of the Peacekeeper missile. While I am disappointed in the congressional action on this vital strategic forces program, the language of the conference report does enable us to keep to our schedule for initial deployment in 1986 once the Congress approves a permanent basing decision. Between now and this spring, I will work closely with Members of Congress to address their concerns and to assure the fullest possible examination of alternative courses of action. Let there be no doubt that the United States remains strongly committed to the pursuit of both effective deterrence and meaningful arms control.
A similar problem is the failure of the resolution to provide full production funding for the Pershing II missile. We are developing this missile along with the ground-launched cruise missile in order to meet an Allied request for land-based systems in Europe that would help maintain deterrence. We intend to meet the scheduled deployment of these missiles in December 1983. We remain steadfast in our determination to meet these alliance commitments.
The allocation of the funds contained in the continuing resolution for foreign assistance is also a concern. First, it cuts total budget authority for foreign aid, excluding the Export-Import Bank, by $571 million. Second, within that total it distributes limited resources unwisely and inequitably. As a consequence of these changes in this resolution, $800 million in foreign assistance requested for many deserving countries has been denied in order to further increase aid to a nation already receiving 28 percent of our total foreign aid in addition to a $300 million credit increase I proposed this fiscal year.
A third provision of concern is the way in which the resolution would mandate continued funding of existing grantees of the Legal Services Corporation until the Senate has confirmed a new Legal Services Corporation Board. Questions have been raised as to whether this provision is in conflict with my constitutional authority to make recess appointments. I have asked the Attorney General to advise me on this matter.
After taking all factors into account, I think that this effort has been worthwhile. Together, the administration and the Congress have agreed on a continuing resolution that will complete the 1983 budget process with reasonable funding. I thus take pleasure in signing HJ. Resolution 631 and ask all Federal employees to provide the most effective and efficient services available for the taxpayers' hard-earned money.
Note: As enacted, H.J. Res. 631 is Public Law 97-377, approved December 21.
Ronald Reagan, Statement on Signing the Continuing Appropriations for Fiscal Year 1983 Online by Gerhard Peters and John T. Woolley, The American Presidency Project https://www.presidency.ucsb.edu/node/244904