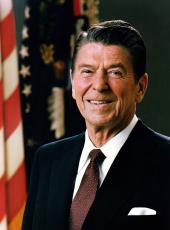 Statement on Signing the Columbia River Gorge National Scenic Area Act
Today I am signing H.R. 5705, which would establish the Columbia River Gorge National Scenic Area. This legislation is designed to protect and enhance the scenic, cultural, recreational, and natural resources of the Columbia River Gorge.
In signing this bill, I have grave doubts as to the constitutionality of the provision in section 10 which would authorize the Governors of Washington and Oregon and the State-appointed Columbia River Gorge Commission to disapprove Federal condemnation actions. The Federal Government may not constitutionally be bound by such State action taken pursuant to Federal law. To avoid this unconstitutional interpretation, I am signing this bill with the understanding that State disapproval of a Federal condemnation action under this legislation will not operate as a veto, but will be merely advisory. Upon receipt of a State notice of disapproval, the Federal Government will decide whether to proceed with its condemnation action. If it is not possible to construe the State disapproval authority in section 10 of the bill as advisory, the severability clause in section 18 of the bill nevertheless enables me to approve the legislation. The severability clause states that the invalidation of one portion of the bill will not affect the validity of the remainder of the bill. Thus if it is not possible to interpret section 10 in a constitutionally acceptable fashion, the severability clause will operate to keep the remainder of the legislation in force despite invalidation of the unconstitutional provision.
In addition, I am concerned that H.R. 5705 could lead to undue Federal intervention in local land use decisions. I believe that the regulation of private land use is generally not a responsibility of the Federal Government. While I am strongly opposed to Federal regulation of private land use planning, I am signing this bill because of the far-reaching support in both States for a solution to the longstanding problems related to management of the Columbia River Gorge. Because of that strong support, I urge the States to establish the Commission at the earliest possible date so that the Commission can make the land use decisions that are properly the function of State and local governments. In that spirit, I am also directing the Secretary of Agriculture to implement this legislation in a manner that will minimize, to the extent permitted by law, Federal intervention in such decisions.
Note: H.R. 5705, approved November 17, was assigned Public Law No. 99-663.
Ronald Reagan, Statement on Signing the Columbia River Gorge National Scenic Area Act Online by Gerhard Peters and John T. Woolley, The American Presidency Project https://www.presidency.ucsb.edu/node/258153