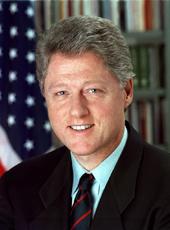 Statement on Signing the Coast Guard Authorization Act of 1996
I have today signed into law S. 1004, the "Coast Guard Authorization Act of 1996." This Act reaffirms our national resolve to maintain a strong Coast Guard presence on our navigable waterways and around the world to fight drugs and pollution, preserve life at sea, secure our ports, and ensure the vitality of our merchant marine and fisheries. This legislation also reaffirms our commitment to the brave men and women of the Coast Guard, who not only serve their country so well every day, but stand ready to aid in its national defense when called.
This Act will enhance the Coast Guard's ability to accomplish a number of important objectives.
The Act will strengthen drug interdiction by clarifying U.S. jurisdiction over vessels in international waters. In particular, the Act makes clear that persons arrested in international waters will not be able to challenge the arrest on the ground that the vessel was of foreign registry unless such claim was affirmatively and unequivocally verified by the nation of registry when the vessel was targeted for boarding. By eliminating this commonly raised jurisdictional defense, the Act strengthens the hand of prosecutors in drug smuggling cases.
The Act also strengthens the Coast Guard's own anti-drug program for maritime employees by authorizing civil penalties of up to $1,000 a day for violations of the service's drug-testing regulations.
The Act reinforces protection of the environment, including commercial and Native American subsistence fisheries, from plastic pollution and oil spills. It contains needed amendments to the Oil Pollution Act's financial responsibility requirements for "offshore facilities," which will enable the Federal Government to issue fair and workable regulations while ensuring that responsible parties provide adequate resources to pay for any oil spill-related costs. The Act fully preserves the Federal Government's right to recover the costs of oil spills from responsible parties.
The Act also contains new requirements for inspections of vessel waste reception facilities and requires additional safety equipment on non-self propelled barges. And it simplifies the regulatory structure for the Nation's only deepwater oil port without sacrificing safety. This port provides a means of transporting oil to the Gulf Coast that is environmentally preferable to transferring oil between vessels at sea. With these protections, our national fisheries will be better safeguarded.
The Act enhances the competitiveness of the U.S. maritime industry by adopting international safety standards for oceangoing vessels when such standards are comparable to Coast Guard safety standards. And it provides authority to the Coast Guard to take actions that will increase safety on the navigable waterways, including authority to provide rescue diver training to its helicopter crews and authority to transfer funds from the highway program to repair bridges that obstruct navigation.
Coast Guard efficiency and quality of life are also improved by this Act through initiatives for new housing, child development services, expanded recycling, health care services, and officer promotion and retention.
One section of the Act, Section 1002, raises a constitutional concern. This section establishes a committee empowered to select the entities to which certain historic lighthouses will be conveyed. Because the committee members will hold a Federal office and because this section vests them with significant authority, they must be appointed as officers pursuant to the Appointments Clause of the Constitution. The Act, however, provides that the Secretary of Transportation "shall" appoint four of the committee's five members from among persons recommended or designated by certain Maine officials or organizations. The Appointments Clause does not permit such restrictions to be imposed upon the executive branch's powers of appointment. Therefore, I will not interpret section 1002(d)(3)(A) of the Act as binding, and I direct the Secretary of Transportation to regard the designations and recommendations arising from it as advisory only.
In sum, this Act is good legislation that will enhance the ability of the United States Coast Guard to live up to its motto—"Semper Paratus:" always ready.
WILLIAM J. CLINTON
The White House, October 19, 1996.
NOTE: S. 1004, approved October 19, was assigned Public Law No. 104-324.
William J. Clinton, Statement on Signing the Coast Guard Authorization Act of 1996 Online by Gerhard Peters and John T. Woolley, The American Presidency Project https://www.presidency.ucsb.edu/node/222072