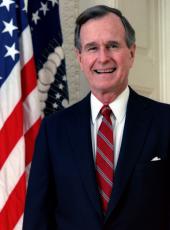 Statement on Signing the Child Nutrition and WIC Reauthorization Act of 1989
As I sign into law H.R. 24, the "Child Nutrition and WIC Reauthorization Act of 1989," I commend the Congress for including a provision in this bill that will provide help to thousands of needy pregnant women, infants, and children who are at nutritional risk.
As President, I seek to improve the health and well-being of our children. I am firmly committed to helping nutritionally deficient children obtain improved nourishment that will give them a better start in life. The WIC program is vital to this effort.
But as I explained in my Inaugural Address, we have more will than wallet. I called for us all to work together -- State and Federal governments and local communities -- to find ways to address national priorities. One of the changes made by H.R. 24 to the WIC program is an excellent example of how innovative ideas can overcome the constraints of our limited "national wallet."
Over one-third of WIC food dollars are spent on infant formula. Unfortunately, formula prices have risen rapidly, putting additional pressure on already tight WIC budgets. A few years ago, several innovative States began looking for ways to reduce infant formula prices for WIC babies. Today, 28 States are running competitive bidding systems in which the infant formula company offering the lowest net price becomes the State's formula supplier. Most other States also have started infant formula cost-reduction initiatives. By utilizing the competitive forces of the market, these State laboratories of innovation were able to use savings of $300 million to increase WIC participation by 500,000 this year.
H.R. 24 will expand WIC participation even more. States buying infant formula through competitive bidding save more than States using other cost-cutting systems. By moving all States to competitive bidding systems, this bill will save an additional $40 million and allow 68,000 more needy pregnant women, infants, and children to participate in WIC.
In joining to support this improvement in WIC, the Administration and the Congress have created an opportunity to help the neediest segments of our population. We will implement competitive bidding as quickly and effectively as possible so that thousands of poor, nutritionally deficient women, infants, and children may receive the help they need. The Secretary of Agriculture will make speedy implementation of this initiative a top priority. The results of the many State competitive bidding experiments will also be evaluated for their value in increasing participation in the nationwide WIC system.
This is the kind of action we must pursue -- obtaining better value for each dollar of Federal spending -- if we are to make progress on pressing national concerns.
George Bush
The White House,
November 10, 1989.
Note: H.R. 24, approved November 10, was assigned Public Law No. 101 - 147.
George Bush, Statement on Signing the Child Nutrition and WIC Reauthorization Act of 1989 Online by Gerhard Peters and John T. Woolley, The American Presidency Project https://www.presidency.ucsb.edu/node/263390