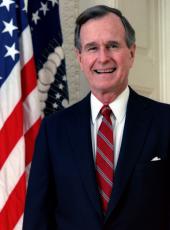 Statement on Signing the Bill Extending Nondiscriminatory Tariff Treatment to Products of Czechoslovakia
As I prepare for my visit to Prague on November 17 and 18, I am particularly pleased to sign H.J. Res. 649 that approves the extension of nondiscriminatory tariff treatment to products of the Czech and Slovak Federal Republic. I thank the Congress for its close cooperation and prompt approval of this measure that will mark an important milestone not only in U.S.-Czechoslovak relations, but also in Czechoslovakia's reintegration into the global economy and the community of free nations.
Once most-favored-nation (MFN) tariff treatment is implemented, Czechoslovakia will become the first Eastern European nation to receive such treatment for its exports to the United States since the revolutions of 1989. With the assistance and endorsement of the Congress, we already have launched efforts that should result in the eventual extension of similar treatment to products of the Soviet Union and Bulgaria.
The enactment of H.J. Res. 649 represents a significant step on our part to bring into force the U.S.-Czechoslovakia Trade Agreement signed by our two governments last April. Upon formal approval of the Agreement by the Federal Assembly and an exchange of diplomatic notes between our governments confirming mutual approval, the Agreement will extend MFN tariff treatment to Czechoslovak exports to the United States and U.S. exports to Czechoslovakia. These sharply lower tariffs will provide the impetus for greatly expanded trade between the United States and Czechoslovakia and the first step toward a normalization of our bilateral trade relations.
In addition to extending MFN tariff treatment, the Trade Agreement contains important guarantees for American businesses engaging in trade with Czechoslovakia, including the right to nondiscrimination in renting office space, in paying for local goods, and in establishing bank accounts. Any hard currency earnings from trade may be repatriated immediately. Through this Agreement, the Czechoslovak Government has also committed to upgrade significantly its protection of intellectual property rights, bringing its intellectual property regime to a level on a par with that of other industrialized nations.
The Czechoslovak Government already has made tremendous strides in its movement toward economic reform and trade liberalization. The implementation of this Agreement and the establishment of U.S.-Czechoslovak trade relations on a basis of nondiscrimination will serve to solidify these reforms and ensure Czechoslovakia's role as an important partner in the global trading system.
George Bush
The White House,
November 8, 1990.
Note: H.J. Res. 649, approved November 8, was assigned Public Law No. 101 - 541. The statement was released by the Office of the Press Secretary on November 9.
George Bush, Statement on Signing the Bill Extending Nondiscriminatory Tariff Treatment to Products of Czechoslovakia Online by Gerhard Peters and John T. Woolley, The American Presidency Project https://www.presidency.ucsb.edu/node/265619