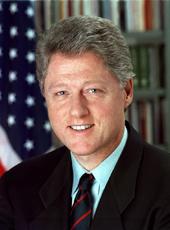 Statement on Signing the Automobile National Heritage Area Act
Today I am pleased to sign into law H.R. 3910, the "Automobile National Heritage Area Act."
In 1896, when Charles and Frank Duryea built 13 identical horseless carriages with the idea of selling automobiles for a profit, Michigan was a rural State of dirt roads, with an economy fueled by agriculture and the timber industry. Trains, canals, and rivers were America's means of transporting commerce. People in rural communities had no easy means of traveling to surrounding towns and cities. The car ended this isolation and transformed Michigan into an industrial giant and America into a moving, working, modern economy. It is only appropriate that we now recognize and honor the cultural legacy of the automobile. The Automobile National Heritage Area—by bringing together a collection of historical facilities and assets and making them available for education, recreation, and tourism—will create something unique and lasting for both Michigan and America.
I am also pleased that H.R. 3910 will establish the Tuskegee Airmen National Historic Site to honor the African American World War II pilots who sacrificed so much during World War II. Fittingly, the Historic Site will be located at the Tuskegee Institute's Moton Field, the first and only training facility for African American pilots during the war. The successes of the Tuskegee Airmen, as they were known, paved the way to desegregation of the military. They proved to the American public that, when given the opportunity, African Americans would become effective leaders. The Historic Site will inspire present and future generations as they come to understand the contribution that these brave individuals made toward defending their Nation and advancing the subsequent civil rights movement.
In addition, H.R. 3910 will authorize a memorial to Benjamin Banneker to honor this Nation's first African American man of science. Mr. Banneker, a self-educated mathematician whose grasp of calculus and spherical trigonometry allowed him to publish his astronomical almanac from 1791 until 1796, is best remembered for his scientific and mechanical genius. It is appropriate to honor this great American by erecting a memorial here in the District of Columbia, where Mr. Banneker employed his celebrated talents to survey and establish the boundaries of the Federal City.
Clarification, however, is needed with respect to section 403(a)(2) of H.R. 3910, which provides that certain members of the Delaware and Lehigh National Heritage Corridor Commission shall "represent" specified State agencies. If this provision were construed to require the Secretary of the Interior to appoint employees of specified agencies to the Commission, it would violate the Appointments Clause of the Constitution. Accordingly, I will interpret this provision as merely requiring that the Secretary's appointees represent these agencies by endeavoring to understand and convey the agencies' concerns to the Commission. Under this construction, section 403 will not impermissibly restrict the Secretary's discretion to select and appoint the members of the Commission.
Much of H.R. 3910 was carefully crafted on a nonpartisan basis. I thank the Michigan delegation and others for their contribution, particularly Representative Joe Knollenberg and Representative John Dingell who, like his father before him, has tirelessly served the people of Michigan and provided the leadership necessary to make dreams such as the Automobile National Heritage Area a reality.
WILLIAM J. CLINTON
The White House, November 6, 1998.
NOTE: H.R. 3910, approved November 6, was assigned Public Law No. 105-355.
William J. Clinton, Statement on Signing the Automobile National Heritage Area Act Online by Gerhard Peters and John T. Woolley, The American Presidency Project https://www.presidency.ucsb.edu/node/225045