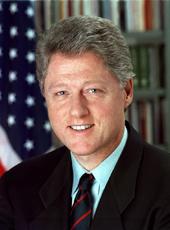 Statement on Signing the American Competitiveness in the Twenty-First Century Act and Non-Immigrant Worker Fee Legislation
I am pleased today to sign into law S. 2045, the "American Competitiveness in the Twenty-First Century Act," and H.R. 5362, an Act to increase the fees charged to employers who petition to employ H-1B non-immigrant workers. Together, these laws increase the number of H-1B visas available to bring in highly skilled foreign temporary workers and double the fee charged to employers using the program to provide critical funding for training U.S. workers and students. The Acts recognize the importance of allowing additional skilled workers into the United States to work in the short-run, while supporting longer-term efforts to prepare American workers for the jobs of the new economy.
At the core of my economic strategy has been the belief that fiscal discipline and freeing up capital for private sector investment must be accompanied by a commitment to invest in human capital. The growing demand for workers with high-tech skills is a dramatic illustration of the need to "put people first" and increase our investments in education and training. Today, many companies are reporting that their number one constraint on growth is the inability to hire workers with the necessary skills. In today's knowledge-based economy, what you earn depends on what you learn. Jobs in the information technology sector, for example, pay 85 percent more than the private sector average.
My Administration has made clear that any increase in H-1B visas should be temporary and limited in number, that the fee charged to employers using the program should be increased significantly, and that the majority of the funds generated by the fee must go to the Department of Labor to fund training for U.S. workers seeking the necessary skills for these jobs. This legislation does those things. But the need to educate and train workers for these high-skilled jobs goes beyond what has been addressed here.
I want to challenge the high-tech companies to redouble their efforts to find long-term solutions to the rapidly growing demand for workers with technical skills. This will require doing more to improve K-12 science and math education, upgrading the skills of our existing workforce, and recruiting from underrepresented groups such as older workers, minorities, women, persons with disabilities, and residents of rural areas. Many companies have important initiatives in these areas, but we clearly need to be doing more.
This legislation contains a number of provisions that merit concern. For example, one provision allows an H-1B visa holder to work for an employer who has not yet been approved for participation in the H-1B program. In addition, there are provisions that could have the unintended consequence of allowing an H-1B visa holder who is applying for a permanent visa to remain in H-1B status well beyond the current 6-year limit. I am concerned that these provisions could weaken existing protections that ensure that the H1-B program does not undercut the wages and working conditions of U.S. workers, and could also increase the vulnerability of H-1B workers to any unscrupulous employers using the program. For example, one of the key requirements of the H-1B program is that the foreign worker is paid the same wage as U.S. workers doing the same job. This legislation, however, by allowing H-1B workers to change employers before a new employer's application has been approved, could result in an employer—knowingly or unknowingly—not paying the prevailing wage. For these reasons, I am directing the Immigration and Naturalization Service, in consultation with the Department of State and the Department of Labor, to closely monitor the impact of these provisions to determine whether the next congress should revisit these changes made to the H-1B program.
I had hoped that the Congress would take this opportunity to address important issues of fairness affecting many immigrants already in this country. We need to meet the needs of the high-tech industry by raising the number of visas for temporary high-tech workers. But we also must ensure fairness for immigrants who have been in this country for years, working hard and paying taxes. The Latino and Immigrant Fairness Act (LIFA) will allow people who have lived here for 15 years or more—and who have established families and strong ties to their communities—to become permanent residents. It will also amend the Nicaraguan Adjustment and Central American Relief Act (NACARA) to extend the same protections currently offered to people from Cuba and Nicaragua to immigrants from Honduras, Guatemala, El Salvador, Haiti, and Liberia who fled to this country to escape serious hardship. Finally, it will allow families to stay together while their applications for permanent resident status are being processed. These fundamental fairness provisions have been embraced by humanitarian groups, business groups, and Members of the Congress from both sides of the aisle. I will continue to insist strongly on passage of the Latino and Immigrant Fairness Act this year, before the Congress adjourns.
WILLIAM J. CLINTON
The White House, October 17, 2000.
NOTE: S. 2045, approved October 17, was assigned Public Law No. 106-313, and H.R. 5362, approved October 17, was assigned Public Law No. 106-311.
William J. Clinton, Statement on Signing the American Competitiveness in the Twenty-First Century Act and Non-Immigrant Worker Fee Legislation Online by Gerhard Peters and John T. Woolley, The American Presidency Project https://www.presidency.ucsb.edu/node/228310