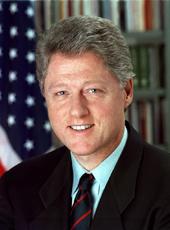 Statement on Signing the Agriculture, Rural Development, Food and Drug Administration, and Related Agencies Appropriations Act, 2000
Today I have signed into law H.R. 1906, the "Agriculture, Rural Development, Food and Drug Administration, and Related Agencies Appropriations Act, 2000."
The Act provides $14.1 billion in discretionary budget authority for programs of the Department of Agriculture and the Food and Drug Administration, including the Special Supplemental Feeding Program for Women, Infants, and Children (WIC); food safety programs; and various programs to protect and support rural communities.
The Act also provides $8.6 billion in emergency funds to assist our Nation's farmers and ranchers who are suffering through the second year in a row of low commodity prices and, for many, crop and livestock losses from severe drought and flooding. My Administration will work hard to ensure that these funds are distributed to farm families as soon as possible; however, because the Congress wrote some of the programs in a complex manner, farmers and ranchers need to understand that, for my Administration to implement them fairly, some of the assistance will take some time to provide. This is the second year in a row that substantial additional Federal assistance has been needed, on top of our regular farm programs, due to deficiencies in the 1996 Farm Bill—further evidence that the 1996 Act simply does not provide an adequate farm safety net.
I continue to be concerned that the income assistance in the Act I have signed today is provided through supplemental Farm Bill income support payments, and therefore is not targeted to producers most in need. These payments are made based on past production, which may have no relation to the crops grown or the market situation facing producers this year, and in some cases payments are made to individuals who are no longer farming. There is now, however, an urgent need for farm assistance, and so I have approved H.R. 1906. But I once again call on the Congress to work with my Administration to fix the 1996 Farm Bill permanently so American producers have the assurance of an adequate farm income safety net, while they continue their work to feed us all.
While the Act's funding for crop and livestock losses from natural disasters has been increased over the amount in the Senate bill, it still will not adequately meet the devastating farm losses in many parts of the country. In addition, H.R. 1906 cuts farm loans by 25 percent from last year, which is simply untenable as we head into a crop year when farmers and lenders alike are saying that they will need even more Federal financing help than last year. The Act also does not include emergency conservation funds to help farmers and rural communities affected by Hurricane Floyd to clear their fields and streams of debris and restore their small waterways. My Administration will work in the remaining days of this session of Congress to secure funding for these and other urgent, unmet needs. In addition, I have asked the Vice President to work with the Department of Agriculture to implement, within existing authorities, measures to improve the operation of various conservation programs.
The additional crop insurance subsidies provided in the Act will help producers afford higher coverage next year, but I call on the Congress to pass long-term crop insurance reform before adjourning this year, to improve this important component of the farm safety net.
The Congress has not provided the full amount of my requested increase for the WIC program, thereby failing to ensure that we can achieve the goal of full participation of 7.5 million women, infants, and children in this vital program. I also remain opposed to the provision that modifies the nonimmigrant farm worker program, known as the H-2A program, because it virtually eliminates the credibility of the recruitment process that protects legal U.S. farm workers. The Act also makes significant cuts in a number of high-priority conservation programs, including the Wetlands Reserve and Environmental Quality Incentives Programs, and fails to fully fund implementation of the Clean Water Action Plan and important bioenergy and bioproducts research and development. In addition, the Act fails to fund the Farmland Protection Program, a valuable conservation program that has received bipartisan support in the past and would have prevented the conversion of farmland and the loss of a way of life in rural communities.
I am concerned that the Act frustrates initiatives to improve customer service in USDA county offices, for example by blocking the Secretary of Agriculture's new Support Services Bureau designed to modernize administrative functions, at a time when farmers and rural residents truly need upgraded assistance. Since the first days of my Administration, the Vice President and I have made improved customer service and greater administrative efficiency a top priority, which we will continue to pursue at the USDA.
I am concerned that, with the exception of the school breakfast pilot projects, H.R. 1906 prohibits the use of Food and Nutrition Service funds for research and evaluation of nutrition programs. The research needs of these important programs should continue to be addressed in the context of the programs' administration. I am asking the Secretary of Agriculture to look into this matter and to work with the Director of the Office of Management and Budget on the most effective approach to address my concerns.
I am pleased that the Act provides significant rural development loans and grants to help our rural communities diversify economically and improve their quality of life. The Act also includes a significant portion of the increase I requested for my Food Safety Initiative to reduce food-borne illnesses. In addition, the Act establishes mandatory livestock price reporting for certain meat processors, which will expand information to livestock producers and particularly will help smaller producers improve their ability to get a fair price in the marketplace. However, I am concerned with the Act's preemption of State price reporting requirements, which is compounded by the lack of funding in the Act to implement the new Federal requirements. My Administration will seek additional funding for these purposes.
There are a number of provisions in the Act that may raise Constitutional issues. These provisions will be treated in a manner that is consistent with the Constitution.
Section 722 of the Act specifies that funds may not be used to provide to any non-Department of Agriculture employee questions or responses to questions resulting from the appropriations hearing process. To the extent that this provision would interfere with my duty to "take Care that the Laws be faithfully executed," or impede my ability to act as the chief executive, it would violate the constitution, and I will treat it as advisory.
Section 735 of the Act purports to constrain my ability to make a particular type of budget recommendation to the Congress. This provision would interfere with my constitutional duty under the Recommendation Clause, and I will treat it as advisory.
Finally, there are provisions in the Act that purport to condition my authority or that of certain officers to use funds appropriated by the Act on the approval of congressional committees. My Administration will interpret such provisions to require notification only, since any other interpretation would contradict the Supreme Court ruling in INS v. Chadha.
WILLIAM J. CLINTON
The White House, October 22, 1999.
NOTE: H.R. 1906, approved October 22, was assigned Public Law No. 106-78.
William J. Clinton, Statement on Signing the Agriculture, Rural Development, Food and Drug Administration, and Related Agencies Appropriations Act, 2000 Online by Gerhard Peters and John T. Woolley, The American Presidency Project https://www.presidency.ucsb.edu/node/229609