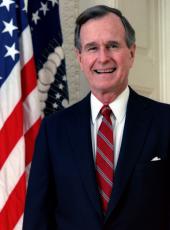 Statement on Signing the ADAMHA Reorganization Act
Today I am pleased to sign into law S. 1306, the "ADAMHA Reorganization Act," which amends certain alcohol, drug abuse, and mental health research and services programs.
S. 1306 reflects the Administration's continued commitment to help the victims of mental illness and substance abuse. It enhances mental health and substance abuse services and research designed to address the needs of the citizens of this Nation. S. 1306 will help us achieve the ambitious goals set forth in the Administration's National Drug Control Strategy.
Most important, this legislation sends a message of hope to the men, women, and children affected by substance abuse and mental illness in this country. Through programs such as residential treatment for substance-abusing pregnant women, S. 1306 will help reduce the number of newborn children exposed to drugs and alcohol. It will also help the estimated one-quarter of our population who, during the course of their lives, will suffer from a mental disorder. According to the Department of Health and Human Services (HHS), mental health and substance abuse disorders cost this Nation approximately $300 billion in health care costs, lost productivity, and other social costs, each and every year.
S. 1306 also has a number of other important provisions that were sought by the Administration. For example, it establishes a grant program to expand by approximately 38,400 the number of additional people who will receive substance abuse treatment in the coming year. This legislation requires the States to assess their efforts to reduce drug and alcohol abuse and to prepare a statewide treatment and prevention strategy. S. 1306 will also continue the prohibition on the use of Federal block grant funds for needle exchange programs. There is no evidence that such programs reduce the incidence of HIV infection, and distributing free needles to drug users only encourages more drug use.
S. 1306 will also reorganize the Alcohol, Drug Abuse, and Mental Health Administration (ADAMHA) within HHS. This reorganization, proposed by the Administration, will create for the first time an agency that is focused solely on providing services to those who suffer from, or are vulnerable to, mental illness and addictive disorders. The reorganization will allow us to develop more fully the ability to target services to people who need them. It will also enhance Federal leadership and help State and local organizations provide and improve services to address these important public health problems.
At the same time, the reorganization will strengthen the Nation's research agenda through the integration of ADAMHA's three research institutes -- the National Institute on Alcohol Abuse and Alcoholism, the National Institute on Drug Abuse, and the National Institute of Mental Health -- into the National Institutes of Health (NIH). Bringing research on mental illness and addictive disorders into the mainstream of biomedical and behavioral research at NIH will foster a greater exchange of information. It will also encourage the sharing of expertise in neuroscience and behavioral research within the biomedical research community.
There are many positive features of S. 1306 that will help the victims of mental illness and substance abuse. I am, however, concerned about the cost of certain block grant mandates in the bill and the effect they will have on the ability of the States to provide substance abuse treatment services to those in need. Such mandates are inconsistent with the purpose of a block grant, which is to allow States the flexibility to design programs tailored to their specific needs. It is my intent that every effort be made to ensure that these mandates do not result in a reduction in the States' ability to provide treatment services to the greatest possible number of persons in need.
In signing this legislation today, I continue the Administration's commitment to address the immeasurable costs to our society and the suffering of our citizens that result from mental health illness and drug and alcohol abuse.
George Bush
The White House,
July 10, 1992.
Note: S. 1306, approved July 10, was assigned Public Law No. 102 - 321.
George Bush, Statement on Signing the ADAMHA Reorganization Act Online by Gerhard Peters and John T. Woolley, The American Presidency Project https://www.presidency.ucsb.edu/node/267582