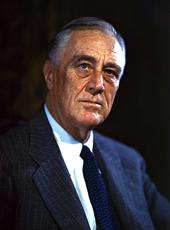 Statement on Signing a Rural Electrification Bill.
I have today affixed my signature to H. R. 4278, providing statutory authorization for several agricultural programs.
The Congress has thereby materially advanced the program of the Rural Electrification Administration by including in H. R. 4278 permanent authorization for the loan funds required in the program, and provisions liberalizing the terms of rural electrification loans. These provisions will make it possible to bring electricity to many more thousands of farm homes which could not previously be served.
From the point of view of raising the living standards of rural America and providing a more efficient form of farm management, one of the most important projects interrupted by the war is the extension of rural electrification.
In the press of other matters, many of us have overlooked the rapid expansion which has taken place in rural electrification since this Administration instituted the program in 1935. At that time only one out of every ten of our farm families had central station electric service. Today 43 percent of our farms are electrified—in spite of the necessary curtailment in construction resulting from the exigencies of war.
On the other side of the picture, we must bear in mind that there are still approximately seven million farm houses and other rural homes still without the benefits of electricity. The comforts and economic advantages of electricity are greatly desired by these American homes. I am sure of it, and I am sure that you agree with me. Not only are these rural dwellers of America anxious to participate in the advantages of farm electricity, but most of them, as a result of improved farm income, are now in a better position to acquire and make effective use of electrical labor-saving devices.
It is particularly important that extensions of rural electrification be planned in such a way as to provide service on an area basis. The practice has been too frequent in the past for private utility companies to undertake to serve only the more prosperous and more populous rural sections. As a result, families in less favored and in sparsely settled sections were left unserved. I believe that our postwar rural electrification program should bring modern service of electric power to the farm families in the back country.
While H. R. 4278, which I have just signed, represents a great step forward in achieving the ultimate objectives of the rural electrification program, further action appears to be necessary to satisfy the demands of an accelerated postwar program. Provision should be made for immediate comprehensive surveys of unelectrifled areas and for preparation of plans for rural electrification projects which can be placed in construction as soon as manpower and materials are available. The funds required for the construction of such projects should be made immediately available to assure the carrying into effect of these plans.
There is now pending in the Congress legislation making such provision. I am hopeful that the Congress, as soon as its legislative program will permit, will give consideration to the objectives of this legislation.
It is desirable not only from the standpoint of improving rural living standards, but also of providing a great amount of industrial employment after the war. It will provide employment not only in the construction of facilities, but a considerably greater employment in the manufacture of electrical equipment. Such a program involves new standards of living and will therefore do much to help promote the economic health and strength of the country.
I need not call your attention to the fact that the Rural Electrification Administration program is of a self-liquidating nature; and that, therefore, it is one of the most promising vehicles for attaining a stronger, a happier, and a more prosperous America.
Franklin D. Roosevelt, Statement on Signing a Rural Electrification Bill. Online by Gerhard Peters and John T. Woolley, The American Presidency Project https://www.presidency.ucsb.edu/node/209829