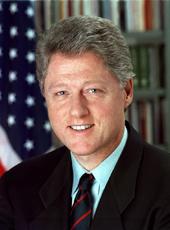 Statement on Signing Flood Relief Legislation
Today I have signed into law H.R. 2667, the "Emergency Supplemental Appropriations for Relief From the Major, Widespread Flooding in the Midwest Act of 1993." This Act provides $6.3 billion of Federal assistance to the victims of the Midwest floods and other disasters. I commend the Congress for acting expeditiously to develop a bill that helps those who are suffering as a result of the Midwest floods.
H.R. 2667 provides an estimated $2.35 billion for disaster payments to farmers through the Commodity Credit Corporation. Pursuant to this Act, I am informing Secretary of Agriculture Mike Espy that extraordinary circumstances exist and that he is to make payments for 1993 crop losses at a 100 percent payment rate for each eligible claim, as authorized in the 1990 Farm Bill and this Act.
The Act also provides $2.0 billion for Federal Emergency Management Agency (FEMA) operations for disaster relief, both for the Midwest floods and for other disasters. This FEMA funding will provide for the repair of public facilities and for housing and other assistance to those affected by the Midwest floods. $235 million is provided to the Army Corps of Engineers for repairing damage to Federal and non-Federal levees and other flood control works.
The Act provides $389 million in Small Business Administration (SBA) loans and $200 million for long-term recovery efforts through the Economic Development Administration (EDA). The low-interest SBA loans will be made available primarily to homeowners, renters, and business owners to assist in their recovery from physical damage caused by the flooding in the Midwest. In addition, some of the loans will be made to firms engaged in agriculture-related activities that have suffered substantial economic injury due to farm damage. The Act also provides $10 million for additional SBA staff in order to facilitate the processing of loan applications. The EDA disaster assistance grants will be provided to State and local units of government for economic recovery strategy, technical assistance, and public works grants.
The Act includes $75 million for the Public Health and Social Service Emergency Fund of the Department of Health and Human Services for the repair and renovation of community health centers and migrant health centers damaged by the Midwest floods and for social services for flood victims. The Act also provides $200 million for disaster recovery planning with State and local agencies and for disaster-related community development. This $200 million is provided through the Department of Housing and Urban Development's Community Development Block Grant program.
The Act includes $42 million for the Department of Agriculture's Agricultural Stabilization and Conservation Service. This includes $12 million to hire temporary employees to accelerate processing of applications for crop disaster claims. It also includes $30 million to assist farmers with debris cleanup and the restoration of damaged farmland. Sixty million dollars is provided for the watershed and flood prevention operations program in the Department of Agriculture. These funds will be used to repair levees, dikes, and other flood-retarding structures and to open water courses plugged with sediment and debris. Under certain conditions, this funding could also be used to enroll eligible cropland in Agriculture's Wetlands Reserve Program. In addition, $270.5 million is included for rural development and housing loans, emergency water grants, very low income housing repair grants, and for the Extension Service.
Also included in H.R. 2667 is $175 million for highway repair. This will allow the Secretary of Transportation to provide immediate assistance to States whose highways and bridges have been damaged by flooding. In addition, $21 million is provided for local rail assistance to help restore rail service in the flooded regions of the Midwest, and $10 million is provided for the Coast Guard.
The Act provides $54.6 million for title III of the Job Training Partnership Act, which authorizes assistance to dislocated workers. This additional funding will be available for the Secretary of Labor to finance temporary jobs to repair damage caused by the floods, clean up affected areas, and provide public safety and health services. Participants would include workers who have been dislocated by the floods, other displaced workers, and the long-term unemployed.
The Act provides $1 million to repair and replace National Oceanic and Atmospheric Administration (NOAA) facilities and equipment damaged during the Midwest floods. This includes repair and replacement of critical weather and flood warning systems.
H.R. 2667 provides $70 million for disaster assistance to schools affected by the floods. Also provided is $30 million to supplement Federal Pell Grant awards. College financial aid officers have the authority to adjust award amounts to assist students who, due to the flood, lose income or documentation of income.
The Act provides $50 million for the HOME Investment Partnerships Program in the Department of Housing and Urban Development. This funding will provide for a range of housing activities, including acquisition, rehabilitation, tenant-based rental assistance, and new construction in areas affected by the flooding in the Midwest.
Five programs in the Department of the Interior receive a total of $41.2 million: the U.S. Geological Survey, the Fish and Wildlife Service, the National Park Service, the Historic Preservation Fund, and the Bureau of Indian Affairs. These funds will allow the Department to repair facilities on Indian reservations and to rehabilitate national wildlife refuges, fish hatcheries, dikes, roads, trails, and several national monuments and historic sites damaged by the Midwest floods.
The Act provides $34 million for the Environmental Protection Agency (EPA). These funds will be used for environmental damage assessment; for identifying, collecting, and disposing of pesticides and other contaminants; and for cleanup actions at eligible leaking underground tank sites that have been affected by the Midwest floods.
The Legal Services Corporation is provided $300,000 to assist those harmed by the flood with legal matters. Also provided is $4 million for State youth and conservation corps programs involved in disaster cleanup activities.
In addition to amounts previously designated as emergency requirements in accordance with the applicable provisions of the Balanced Budget and Emergency Deficit Control Act of 1985, as amended, I am today designating as emergency requirements the following appropriations and authorities provided by this Act:
Department of Agriculture, Commodity Credit Corporation fund: $300,000,000;
Department of Agriculture, Commodity Credit Corporation fund: all costs associated with raising to 100 percent the payment rate to farmers for 1993 crop losses;
Department of Education, Impact Aid: $70,000,000;
Department of Labor, Job Training: $11,100,000;
Department of Transportation, Local Rail Freight Assistance: $21,000,000;
Federal Emergency Management Agency, Disaster Relief: $862,000,000 for FY 1993, which replaces the July 29, 1993, emergency designation of these funds, which were originally requested for FY 1994; and
Legal Services Corporation, Payment to the Legal Services Corporation: $300,000.
WILLIAM J. CLINTON
The White House, August 12, 1993.
NOTE: H.R. 2667, approved August 12, was assigned Public Law No. 103-75.
William J. Clinton, Statement on Signing Flood Relief Legislation Online by Gerhard Peters and John T. Woolley, The American Presidency Project https://www.presidency.ucsb.edu/node/217741