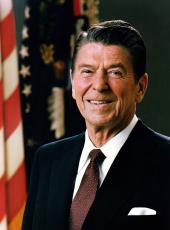 Statement on Signing Executive Order 12301, Concerning Integrity and Efficiency in Federal Programs
Today, I am announcing two actions to respond to the demand of the American people for honesty in government.
While hundreds of thousands of government employees are working honestly and competently to serve their nation, there is also a very small minority of dishonest—and some frankly incompetent—individuals who are costing the taxpayers perhaps billions of dollars in fraud and waste.
This is not my money; it is not the Congress' money; it is the people's money. Our failure to stop this fraud, waste, and mismanagement has led to growing public cynicism about the ability of government to control itself. It raises fundamental questions about the integrity of government.
My first action is the issuance of an Executive order establishing the President's Council on Integrity and Efficiency. This action signals everyone who works for or does business with the Government that we mean business.
This Executive order I have signed brings together in one body the Inspectors General of the various agencies of Government so that they can focus their total efforts in the places that will do the most good. This will also include the efforts of the Justice Department and its resources in the FBI.
Bringing together these efforts will permit all agencies to share knowledge of fraudulent and wasteful activities. They will exchange information on the kinds of investigations which will provide the most promising results. And they will be ready to move in quickly with tough and effective criminal prosecutions where such prosecutions are warranted.
I have asked Edwin Harper, Assistant to the President and Deputy Director of the Office of Management and Budget, to chair the new Council. Mr. Harper will be reporting directly to me, and, Ed, I am confident that you will have a lot to report.
I am also announcing the appointments of the first 6 of the 16 Inspectors General that are authorized by law. When I exercised my prerogative as a new President to terminate the appointments of the incumbent inspectors, I announced that we would seek the very best people we could find, including those who previously held these positions. Five of the six individuals I am announcing today were previously serving as Inspectors General, and I hope this puts to rest suspicions that have been voiced that politics has anything to do with these appointments. We sought the best people available—individuals with experience who have uncovered cases of fraud and waste in government and have saved or recovered millions of dollars.
I am pleased to announce that the FBI has just concluded a major investigation in New York relating to fraud in the summer lunch program. FBI Director William Webster will be here later today to give you a complete briefing on this matter.
We will not rest with today's announcement. We will not simply tuck this event away and go on with business as usual. The American people are demanding action, and they are going to get it. Believe me, we are out to get control of our lives—and we are going to follow every lead, root out every incompetent, and prosecute any crook we find who's cheating the people of this Nation. This I promise.
Note: The President read the statement at a signing ceremony which began at approximately 11:30 a.m. in the Roosevelt Room at the White House.
Ronald Reagan, Statement on Signing Executive Order 12301, Concerning Integrity and Efficiency in Federal Programs Online by Gerhard Peters and John T. Woolley, The American Presidency Project https://www.presidency.ucsb.edu/node/246158