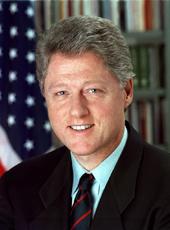 Statement on Signing District of Columbia Continuing Appropriations Legislation
Today I have signed into law House Joint Resolution 153, which provides authority for the District of Columbia to continue full operations.
This measure continues the authority provided by the Fourth Continuing Resolution for FY 1996, which I signed December 22, and will enable the District to continue to operate, using District funds, through January 25.
Because H.J. Res. 153 allows the District government to continue to operate without disruption, it is a step in the right direction. Nevertheless, it is only a step. It does not end the partial shutdown of the Federal Government that continues to affect the Departments of Commerce, Education, Health and Human Services, Housing and Urban Development, Interior, Justice, Labor, State, and Veterans Affairs; the Environmental Protection Agency; the National Aeronautics and Space Administration; the Small Business Administration; and nearly three dozen smaller agencies.
This shutdown is hurting millions of innocent Americans—such as the 600,000 senior citizens who may not get services under the "Meals on Wheels" program, or the 2,500 moderate- and low-income working families per day who cannot get their Federal Housing Administration (FHA) mortgage loans processed. The longer the shutdown continues, the more Americans across the country will feel its impact.
The shutdown has forced the Administration to furlough 280,000 workers in these departments and agencies. And while the Administration has kept 480,000 others on the job because they perform emergency services, we cannot pay them until the shutdown ends. Thus, by not ending the shutdown, the Congress is disrupting the lives of three-quarters of a million Federal workers, most of whom live paycheck to paycheck and are having severe problems paying their mortgages or rent, buying food, and protecting their families.
I am concerned that this bill contains an objectionable provision that would single out poor women by prohibiting the use of District funds for providing abortion services. I oppose including this provision in the regular fiscal year 1996 District of Columbia Appropriations Bill, and I urge the Congress to send that bill to me— in a form I can sign—as expeditiously as possible.
Once again, I urge the Congress to end this shutdown immediately by sending me an acceptable continuing resolution to fund these departments and agencies, or acceptable fiscal 1996 appropriations bills for them.
WILLIAM J. CLINTON
The White House, January 4, 1996.
NOTE: H.J. Res. 153, approved January 4, was assigned Public Law No. 104-90. This statement was released by the Office of the Press Secretary on January 5.
William J. Clinton, Statement on Signing District of Columbia Continuing Appropriations Legislation Online by Gerhard Peters and John T. Woolley, The American Presidency Project https://www.presidency.ucsb.edu/node/222923