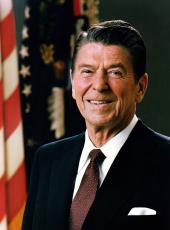 Statement on Signing a Bill Relating to Water Rights of the Ak-Chin Indians
I have signed today H.R. 6206, which reconfirms our commitment to the policy of Indian tribal self-determination and does so in a fiscally responsible manner.
Two years ago I announced a policy to pursue vigorously negotiations to settle outstanding Indian water rights. I am especially pleased to sign the Ak-Chin community water settlement, H.R. 6206, because it demonstrates the success of that approach.
H.R. 6206 ratifies a series of agreements negotiated by officials of the Department of the Interior with the affected parties over the past 2 years. It settles the outstanding water claims of the Ak-Chin Indian community, provides a permanent water supply to be delivered through the Central Arizona Project facilities, provides funds for water conservation, and provides that water not needed to satisfy the Ak-Chin entitlement will be available for allocation to other water users in central Arizona.
In 1978 the Congress and the previous administration enacted an Ak-Chin water settlement act which required the Federal Government to provide an interim supply of water beginning in 1984 and permanent water no later than 2003. H.R. 6206 more clearly fulfills the intent of the earlier act by providing a permanent water supply beginning in 1988 at less than half the cost of the previous temporary plan.
The Ak-Chin settlement embodies three policies of this administration: first, that Indian tribal governments can and should decide what is best for their people; second, that the complex issue of Indian water rights is better handled through negotiation rather than litigation; third, that we will fulfill our commitments in a fiscally responsible fashion. H.R. 6206 exemplifies how all parties can benefit from a negotiated settlement.
Finally, I would like to congratulate those people whose hard work and dedication to this process contributed greatly to the final enactment of this legislation. They include Senator Barry Goldwater, Congressmen Morris Udall and John McCain, the leadership of the Ak-Chin community, and Interior Secretary William Clark.
Note. As enacted, H.R. 6206 is Public Law 98-530, approved October 19.
Ronald Reagan, Statement on Signing a Bill Relating to Water Rights of the Ak-Chin Indians Online by Gerhard Peters and John T. Woolley, The American Presidency Project https://www.presidency.ucsb.edu/node/260944