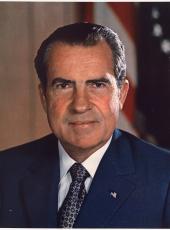 Statement on Signing Bill Providing for a Temporary Prohibition of Strikes or Lockouts in the Railway Labor-Management Dispute.
TO STOP a crippling national railroad strike, which would work severe hardship on millions of Americans and impede an orderly economic expansion, I am signing this bill. I expect, and the Nation will expect, that those who may have left their jobs prior to tonight's congressional enactment will immediately return to work and their leaders return to the bargaining table.
Monday evening I proposed legislation intended to continue operation of the railroads while the free collective bargaining process went on. But Congress went beyond my request and imposed a settlement. It selected one portion of the Emergency Board's recommendations, raising wages, without adopting a balancing portion that would increase productivity and cut back the inflationary effect of the pay increases.
Productivity improvements such as those contained in the Board's report are absolutely essential to combat the rise in prices.
Despite all the talk in Congress of the need to persuade business and labor to curb inflation, when the chips were down a majority of the Congress voted to increase wages sharply without increasing productivity--in plain words, to speed up the rise in costs and prices.
This kind of action, under the pressure of a strike deadline which was not met, would not have been necessary if the Congress had passed the reform of the Railway Labor Act that I proposed 10 months ago. Congress has not held a single day of hearings on the proposed emergency public interest protection act. With the results of this neglect again apparent, I again urge the Congress to make the reforms so badly needed.
Note: As enacted, the bill (H.J. Res. 1413) is Public Law 91-541 (84 Stat. 1407).
The transcripts of two news briefings by Secretary of Labor James D. Hodgson on the railway labor-management dispute were released on December 9 and 10, 1970.
On December 10, the White House also released the transcript of a news briefing by Secretary Hodgson and Secretary of Transportation John A. Volpe on Executive Order 11572, providing for the use of transportation priorities and allocations during the current railroad strike.
Richard Nixon, Statement on Signing Bill Providing for a Temporary Prohibition of Strikes or Lockouts in the Railway Labor-Management Dispute. Online by Gerhard Peters and John T. Woolley, The American Presidency Project https://www.presidency.ucsb.edu/node/240679