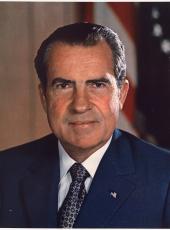 Statement on Signing Bill Increasing Social Security Benefits.
I HAVE SIGNED H.R. 4690, which in addition to raising the ceiling on the national debt, also increases social security benefits by 10 percent. This measure provides some of the relief which the 26 million social security recipients have urgently needed for a long time. I have felt keenly that it is intolerable that millions of these men and women, who did so much to build the Nation's productivity and to provide our youth with the abundance and the many opportunities they enjoy, are not sharing equitably in that abundance. Too many are poor--too many are left out--too many suffer from inadequate health care. This measure will help. In addition, my proposals for an income floor for the elderly, as provided in the Welfare Reform Act, and revisions to Medicare, as proposed in my health legislation, will be of further assistance. Yet I am well aware that even when all of these proposed benefits become fact, serious problems will remain to be solved for many of our older Americans, and I shall continue to seek solutions and propose legislation that will reflect my deep concern.
Unfortunately, however, the measure does not include the vital cost-of-living escalator. I have repeatedly asked the Congress to provide for automatic increases in social security benefits as the cost of living increased. Only if such a provision is included can we overcome the rigidity of the social security benefit system, and the long delay that ensues before senior citizens receive the real benefits of a system that most have supported by their contributions throughout their adult lives.
The measure has other serious deficiencies in it. In this bill the Congress has departed from the cardinal principle which should govern the social security system: The Congress has not provided for sufficient revenues in the current year to cover fully the added costs of the new benefits. It has deferred the effective date of increased contributions required to pay for these new and much deserved benefits.
The net effect of the Congress action is to raise the net cost of the benefits provided by $3.4 billion in fiscal year 1971 and by another $500 million in fiscal year 1971.
The evidence is clear that spending beyond the revenues we would receive at full employment--as was done in 1966, 1967, and 1968--was a major contributing factor to the inflation that has robbed all of us in these recent years.
If these urgently needed social security increases are enacted but the means to pay for them currently are defaulted, we are faced with the very real prospect of increased inflation. For that reason, I urge the Congress to act promptly on a social security revenue measure so that the current cost of these increased benefits will be financed and the basic noninflationary budgetary principle, which was embodied in the 1972 budget I submitted to the Congress, can be maintained.
Increasing social security benefits is essential, as I have said many times. Increasing social security benefits in a way that carries with it the seeds of a resumption of the inflation it has taken us more than 2 years to control would benefit no one. We owe to the elderly people in this country something more than a social security increase which is only an illusion, and which would be eroded by inflation almost before it is received.
Note: As enacted, H.R. 4690 is Public Law 92-5 (85 Stat. 5).
Richard Nixon, Statement on Signing Bill Increasing Social Security Benefits. Online by Gerhard Peters and John T. Woolley, The American Presidency Project https://www.presidency.ucsb.edu/node/241106