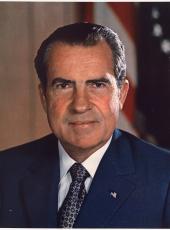 Statement on Signing a Bill To Facilitate the Preservation of Historic Structures Donated to State and Local Governments.
ALTHOUGH Jefferson reminded us that "the earth belongs to the living, not to the dead," the value of historical preservation can no longer seriously be challenged. We need to know where we have been if we are to understand where we are--and who we are.
Although it is true that historical preservation of buildings may seem to many to 'have a low priority, we should not turn our backs upon these quiet, stately, authentic reminders of our heritage. As we look upon these structures we hear the voices of past heroes--strengthening our resolve to create a future that will be worthy of them.
And although the GSA surplus property bill I am about to sign may appear to some not to be significant, I do sign it with a sense of deep significance. This is, in fact, one of the key initiatives for historic preservation that I presented to the Congress in my 1971 message on the environment. The bill will give us the tools we need to permit States and localities to receive title to surplus Federal structures of historic and architectural interest.
Until today, law has prevented the free transfer of Federal surplus buildings to the States or localities unless they were to be used as museums or for other nonrevenue producing activities. Many States and cities simply could not afford to take title and maintain these buildings under such terms.
Under the new law, the States and localities will be able to use the Federal surplus buildings as centers for urban commerce and tourism. They will be able to preserve the historic buildings, to cherish them, and to use them as active facilities which will raise sufficient revenue to keep them well maintained. The buildings themselves can be living parts of the community, preserving their historic past not as a thing apart but as a vital presence. Any excess revenues will be used for parks, recreation, and other local historic preservation projects.
There remain before the Congress a number of additional measures I have proposed to aid historic preservation. Among these are the National Land Use Policy Act, which will help States to exercise protective controls over historic buildings and districts, proposed changes in the Internal Revenue Code to provide tax benefits for the restoration and tax penalties for the destruction of historic structures, and a new program of loan guarantees through the Department of Housing and Urban Development for the restoration and rehabilitation of historic structures for residential purposes.
I urge the Congress to enact all these measures for the benefit of our American architectural and historic values--and I sign the GSA surplus property bill with pride and satisfaction.
Note: As enacted, the bill (S. 1152) is Public Law 92-362 (86 Stat. 503).
Richard Nixon, Statement on Signing a Bill To Facilitate the Preservation of Historic Structures Donated to State and Local Governments. Online by Gerhard Peters and John T. Woolley, The American Presidency Project https://www.presidency.ucsb.edu/node/254702