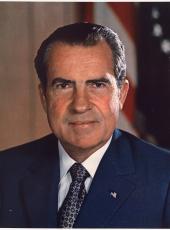 Statement on Signing Bill Extending Assistance Programs for Elementary and Secondary Education.
I AM today signing into law the bill which is designated as H.R. 514, the elementary and secondary education amendments of 1969. This legislation authorizes Federal spending for important education programs in fiscal year 1971; and I sign it for this reason. But I do so with considerable reluctance, for this legislation also authorizes spending which is both excessive and misdirected.
UNREALISTIC AUTHORIZATION LEVELS
In the first place, H.R. 514 authorizes educational spending at a far higher level than that which can be accommodated in any fiscally responsible budget. In fact, this bill authorizes more than three times as much money for education in fiscal year 1971 as was appropriated in fiscal year 1970. The fact that I am signing H.R. 514 should not be interpreted as a commitment to seek or approve this unrealistic level of appropriations.
UNWISE EXTENSION OF AID TO IMPACTED

AREAS
In my recent veto message concerning the HEW [Health, Education, and Welfare] appropriations bill, I described serious defects in the program of aid to federally impacted areas, including its tendency to give too much money to wealthy areas while poor areas get too little. I have submitted legislation which would correct these problems. Unfortunately, H.R. 514 does not reform the impacted aid program; in fact, it actually compounds that program's inequities by adding a new category of aid for children who live in public housing. This added program would cost approximately an additional half billion dollars a year, yet it is not consistent with any known index of fiscal or educational need.
UNWISE EXTENSION OF LOAN CANCELLATIONS
H.R. 514 also extends the cancellation features of the national defense student loan program--under which a student can presently have his Federal education loan cancelled if he enters the teaching profession. H.R. 514 would also cancel loans for students who enter military service after June 30, 1970. There is no evidence, however, that more students have actually gone into teaching during the last 12 years as a result of this legislation and no clear reason to think that its extension will increase military enlistments. This administration therefore prefers that the money which would be spent in cancelling the loans of some students be used instead to make more loans available for all.
I am signing H.R. 514 only to assure continuation of appropriations in fiscal 1971 for important programs whose authorizations expire on June 30, 1970. Later, when the education appropriations bill comes to my desk, I will evaluate it by the criteria which I have mentioned in this statement and in my message to Congress concerning education. Is the level of funding realistic and responsible? Does it concentrate funds where they can do the most good? Does it expand our efforts to discover what works and what does not work in education? Does it satisfactorily reform programs such as aid to impacted areas and the other outmoded programs?
It is my hope that the Congress will provide affirmative answers to all of these questions.
Note: As enacted, H.R. 514 is Public Law 91230 (84 Stat. 121 ).
Richard Nixon, Statement on Signing Bill Extending Assistance Programs for Elementary and Secondary Education. Online by Gerhard Peters and John T. Woolley, The American Presidency Project https://www.presidency.ucsb.edu/node/241008