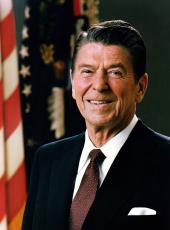 Statement on Signing a Bill Concerning the Protection of Marine Mammals
I have today approved H.R. 4084, a bill designed to improve the operation of the Marine Mammal Protection Act of 1972.
H.R. 4084 authorizes appropriations to carry out the act and amends it in several respects, principally by revising the procedures for returning to the States responsibility for management of marine mammals and by establishing a cooperative Federal-State procedure for managing marine mammals in ocean waters from 3 to 200 miles offshore. Specifically, H.R. 4084 provides for the Secretary of Commerce or the Secretary of the Interior to adopt State regulations applicable to the territorial waters and extend them by regulation to the federally controlled Fishery Conservation Zone. The bill, however, makes inapplicable to this process Executive Order 12291, the Regulatory Flexibility Act, the Paperwork Reduction Act, and the 30-day notice requirement under the Administrative Procedure Act, all of which are important to this administration's efforts to control the proliferation of Federal regulations.
I must express my concern over these exemptions. While I fully support the notion of encouraging and reinforcing State initiative in the management of marine mammals, I remain concerned that our important Federal regulatory review processes not be overlooked in. this instance. The exemption of these regulatory actions from the regulatory review processes circumvents our regulatory relief efforts. I oppose that exemption, no matter how well intended.
Moreover, the Department of Justice has advised me that the exemption of these regulatory actions from Executive Order 12291 should not be read to infringe in any way on the President's constitutional responsibility to supervise the Secretary of Commerce and the Secretary of the Interior in their execution of the law. I have requested the Attorney General to advise the Secretaries and the Director of the Office of Management and Budget on the actions they should take to carry out this provision of the bill consistent with the President's constitutional responsibilities.
Note: As enacted, H.R. 4084 is Public Law 97-58, approved October 9.
Ronald Reagan, Statement on Signing a Bill Concerning the Protection of Marine Mammals Online by Gerhard Peters and John T. Woolley, The American Presidency Project https://www.presidency.ucsb.edu/node/247351