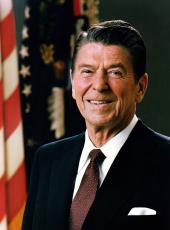 Statement on Signing a Bill Authorizing Construction of the Smithsonian Institution Center for Non-Western Cultures
I have signed into law today H.R. 5659, an act authorizing the Smithsonian Institution to construct a building, the primary focus of which will be a center for African, Near Eastern, and Asian cultures, in the Quadrangle just south of the Institution's red sandstone "castle" on the National Mall.
The central purpose of the Smithsonian Institution is to provide knowledge, and through that knowledge, understanding. "The increase and diffusion of knowledge" among all mankind is its mandate, and in pursuing this mandate for the past 136 years Smithsonian scholars and scientists have explored and shed new light upon the universe, upon the geology and biology of our planet, upon the history and art of the United States, and upon the cultures of peoples throughout the world from the earliest times to the present.
In this panoply of knowledge and human and natural diversity, however, there is an important segment to which full justice has not been done: that vast and rich array of civilizations stretching from Japan and Korea through Southeast Asia, the Middle East, and all of Africa.
The Smithsonian's interest in these civilizations is by no means new. For many decades its archaeologists and ethnologists have worked in these areas; the Freer Gallery is one of the most important museums in America specializing in the art of the Near East and Asia; and in 1979 Congress placed responsibility for the National Museum of African Art with the Institution. At a time, however, when an understanding of non-Western cultures has assumed new urgency, it is apparent that the Smithsonian's existing facilities are inadequate to meet the need: The Freer Gallery needs more space for its programs, the National Museum of African Art needs and deserves modern facilities among the other Smithsonian museums on the Mall, and the Smithsonian as a whole needs facilities in which the achievements of all non-Western cultures can be studied, discussed, and exhibited.
The Quadrangle, a center for non-Western cultures, is the Smithsonian's response to this need. This new center will give the Institution's 25 million annual visitors (as well as those who see the Institution's traveling exhibitions in this and other countries) an understanding of the great cultural achievements of the peoples and civilizations of Africa, the Near East, and Asia. In emphasizing the rich diversity of these civilizations as well as the interrelationships of mankind, the new center will make a fundamental contribution to the global understanding upon which our future depends.
Note: As enacted, H.R. 5659 is Public Law 97-203, approved June 24.
Ronald Reagan, Statement on Signing a Bill Authorizing Construction of the Smithsonian Institution Center for Non-Western Cultures Online by Gerhard Peters and John T. Woolley, The American Presidency Project https://www.presidency.ucsb.edu/node/245552