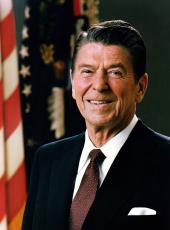 Statement on Signing a Bill Amending the Bankruptcy Code
I am today signing S. 903, a bill "To extend certain protections under title 11 of the United States Code, the Bankruptcy Code." This legislation amends substantially identical provisions of two different laws, Public Law 99-591 and Public Law 99-656, to extend their operation from May 15, 1987, until September 15, 1987. Both laws require the payment of certain benefits to retirees of business organizations in chapter XI bankruptcy proceedings (involving business reorganizations) and apply to cases pending under chapter XI in which benefits were being paid on October 2, 1986, and to all such cases in which an order for relief is entered after that date.
Those provisions are unobjectionable. I must note my serious concern, however, with the extension of subsection 2(b)(3) of Public Law 99-656. That provision requires a particular bankruptcy trustee, in a case identified by reference to the circumstances of its bankruptcy proceedings, to continue to pay certain benefits to retired former employees. Under the Constitution, the Congress is authorized to establish "uniform Laws on the subject of Bankruptcies throughout the United States." Subsection 2(b)(3) singles out a specific firm. It amounts to a private bankruptcy law, which is beyond the Congress' constitutional authority to enact. I believe, therefore, the extension of this provision is unconstitutional.
In considering this legislation, I am of course aware that when the Congress enacted the temporary bankruptcy provisions of Public Laws 99-591 and 99-656 it did so for the express purpose of "freezing" the status quo, while it considered possible permanent amendments of the Bankruptcy Code in the area of pension benefits. I understand that these deliberations are still under way. For that reason, and because the extensions contained in S. 903 are both temporary and brief, I am persuaded in this unique circumstance to give the Congress additional time to ponder a more permanent and constitutionally sound response to the problems facing retired workers by approving S. 903.
In approving this legislation, however, I must once again underscore my belief that the purported extension of subsection 2(b)(3) of Public Law 99-656 constitutes an unconstitutional private bankruptcy law. Because of its unconstitutional nature, I have directed the Attorney General not to defend it.
Note: S. 903, approved May 15, was assigned Public Law No. 100-41.
Ronald Reagan, Statement on Signing a Bill Amending the Bankruptcy Code Online by Gerhard Peters and John T. Woolley, The American Presidency Project https://www.presidency.ucsb.edu/node/253285