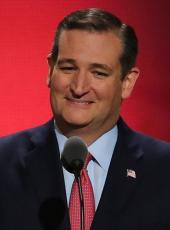 Statement by Senator Ted Cruz on the 2016 March for Life
Commends March for Life
HOUSTON, Texas – Today, Presidential candidate Ted Cruz releases the following statement in support of the 2016 March for Life:
"On the 43rd anniversary of Roe v. Wade, thousands of sojourners march for life in Washington, D.C.
"Our hearts are heavy as we remember that grave decision – one that has wrongfully denied more than 56 million unborn children the right to life. No judge, president, or lawmaker has any authority to disregard life as knit together by God. We should instead embrace life as a precious gift from God and do everything within our power to defend the most vulnerable among us. This is a question of national character, and an opportunity for families, churches, and communities to stand united and restore the promise of the Declaration.
"Millions of Americans recognize the fundamental right to life, and they have fought tirelessly to rectify this injustice and defend the unborn. Their heroic efforts continue to speak the truth in love and make great strides in restoring the sanctity of life throughout the 50 states. I thank them for their unwavering stand for life. Together, we will bend the arc of history towards justice."
In light of both Martin Luther King Jr. Day and the Roe v. Wade anniversary this week, Ted Cruz penned an op-ed in The Resurgent. See excerpt below:
"We cannot neglect the current climb towards justice for all – especially for children.
"Just five years after Reverend King's death, another grave injustice stained our nation. The Supreme Court ruled that unborn children have no right to life. That decision defied the very essence of freedom – without life, there is no liberty. Without life, there is no pursuit of happiness. Yet, since Roe v. Wade, that right has been snatched away from 56 million unborn children.
"As Reverend King's niece, Dr. Alveda King, has rightly stated: 'Abortion and racism are evil twins, born of the same lie.' The lie that there is no inherent worth in humanity. The lie that some people do not deserve the chance to become the next musicians, scientists, architects, leaders, and service members. The lie that not every life is equally valuable to our Creator.
"This is the lie that Reverend King devoted his life to not simply dispelling, but to displaying to the world its utter perversion. He did so powerfully – with grace and conviction. Today, we are called to do the same with any degradation of human dignity.
"This week, as thousands gather from across the country to march for life, passing those same steps upon which Martin Luther King, Jr. stood, let us remember his call: 'Now is the time to make justice a reality to all of God's children.'
"May we honor this noble wish by cherishing each life – born and unborn – and by working tirelessly to defend those who cannot defend themselves. So that we march onwards and upwards, grounded in prayer and inspired by truth, to recognize the gift of life."
Ted Cruz, Statement by Senator Ted Cruz on the 2016 March for Life Online by Gerhard Peters and John T. Woolley, The American Presidency Project https://www.presidency.ucsb.edu/node/315396