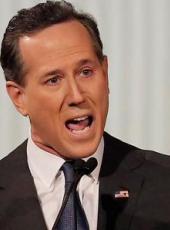 Statement by Senator Santorum on Romney's Refusal to Sign Susan B. Anthony List's Pro-Life Pledge
New Orleans, LA - Former Senator Rick Santorum (R-PA) issued the following statement in reaction to the announcement by the Susan B. Anthony List (SBA List) regarding Governor Mitt Romney's refusal to sign the Pro-Life Leadership Pledge.
"This past Monday night at the Republican Presidential Debate, I was asked about Governor Romney's pro-life conversion, and I gave him the benefit of the doubt. I apparently spoke too soon. It is incredibly disappointing that Governor Romney chose not to defend those who cannot defend themselves," said Senator Santorum.
During his time in the Senate, Senator Santorum proudly stood in the forefront of the nation's pro-life battles - from authoring the ban on partial-birth abortions to the "Born Alive Infant Protection Act," and "Unborn Victims of Violence Act," which is more commonly known as "Laci and Connor's Law." Senator Santorum also led the fight on the floor of the United States Senate in support of strict constructionist judges against the unwarranted and unprecedented filibusters by the then-Democratic minority.
Additional announced candidates who did not take the pledge include Herman Cain and former New Mexico Governor Gary Johnson.
Rick Santorum, Statement by Senator Santorum on Romney's Refusal to Sign Susan B. Anthony List's Pro-Life Pledge Online by Gerhard Peters and John T. Woolley, The American Presidency Project https://www.presidency.ucsb.edu/node/298889