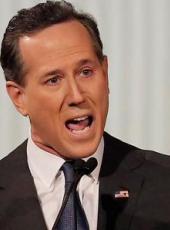 Statement by Senator Santorum on Dan Savage and His Obscene Attack
Earlier this morning, I emailed my supporters about last week's episode of "Real Time with Bill Maher" on HBO, where he and his guest, hate activist Dan Savage broke into vile attacks against me and other conservatives. The attacks were too disgusting and sexually explicit to repeat here, but I did want to share my interview with Steve Malzberg of WOR in New York City - a responsible radio host who was just as disgusted as I was by the media's treatment of conservatives like us.
I can only imagine if this happened to a liberal. Maher and his friends in the Mainstream Media would hit the roof - and rightly so! But when it happens to a conservative, they applaud and laugh.
Remember this is not the first time Savage has attacked us on our stance of supporting American values. Savage and his perverted sense of humor is the reason why my children cannot Google their father's name. I took the high road for nearly a decade by not dignifying these mindless attacks, then even defending his 1st Amendment right to spew this filth. And to this day, liberals like Rachel Maddow serve as Savage's lackeys on national television, pushing his smut.
Enough is enough, and I'll keep fighting these attacks to ensure that the extreme lest doesn't win.
Rick Santorum, Statement by Senator Santorum on Dan Savage and His Obscene Attack Online by Gerhard Peters and John T. Woolley, The American Presidency Project https://www.presidency.ucsb.edu/node/298244