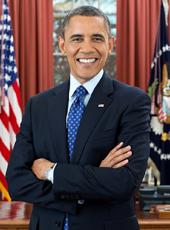 Statement by Senator Obama Calling for a World Without Nuclear Weapons
I welcome the renewed call by Sam Nunn, George Shultz, Henry Kissinger, and William Perry to urge the United States to support a world free of nuclear weapons. These four Americans have shown leadership on this issue for many months, and I have embraced this goal throughout my campaign. As I said in a speech on October 2: "Here's what I'll say as President: America seeks a world in which there are no nuclear weapons."
I also know that words are not enough. We must act responsibly and resolutely to pursue this goal. That is what I have done in the Senate, where I've made combating the spread of nuclear weapons a top priority. I have worked with SamNunn's former co-sponsor - Richard Lugar - to pass a law to secure nuclear weapons and materials around the world. And I have worked with Chuck Hagel to introduce a law to prevent nuclear terrorism, reduce global nuclear arsenals, and stop the spread of nuclear weapons.
As President, I will set and seek the goal of a world with no nuclear weapons. We will always maintain a strong deterrent as long as nuclear weapons exist. But we will move forward down the long road toward eliminating nuclear weapons by securing all loose nuclear materials within four years; stopping the development of new nuclear weapons; working with Russia to take U.S. and Russian ballistic missiles off hair trigger alert; seeking dramatic reductions in U.S. and Russian stockpiles of nuclear weapons and material; and setting a goal to expand the U.S.-Russian ban on intermediate-range missiles so that the agreement is global.
As America keeps its own commitment, we will also work to strengthen the Nuclear Non-Proliferation Treaty (NPT) to trigger automatic sanctions on nations like Iran and North Korea that break the rules.
It's time for America to lead again. These four American statesmen are working across the aisle to move our nation - and our world - toward a safer and more secure future. A world without nuclear weapons is profoundly in America's interest and the world's interest. It is our responsibility to make the commitment, and to do the hard work to make this vision a reality. That's what I've done as a Senator and a candidate, and that's what I'll do as President.
Barack Obama, Statement by Senator Obama Calling for a World Without Nuclear Weapons Online by Gerhard Peters and John T. Woolley, The American Presidency Project https://www.presidency.ucsb.edu/node/292833