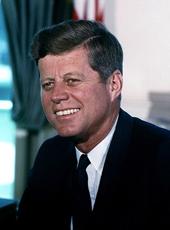 Statement by Senator John F. Kennedy on Vice President Nixon and Civil Rights
Mr. Nixon has recklessly charged me with failing to discuss civil rights in the South. He makes this charge in spite of the fact that in our first debate on nationwide television before the American people, which was broadcast to the South, the North, the East and the West, I said that I would not he satisfied "until every American enjoys his full constitutional rights" and I went into detail on the inequality of opportunities Negroes face in education, in housing and in employment. Mr. Nixon did not choose to take up this problem at all.
The charges were made by Mr. Nixon in spite of the fact that I have affirmed my support of the Democratic platform and my concern that every American, regardless of race, be assured his full constitutional rights, in every southern and every border State I have visited: North Carolina, Tennessee, Kentucky, and Texas.
Mr. Nixon makes this charge in spite of my record for dealing frankly with this problem in both the North and in the South prior to the time I became a candidate for the Presidency.
Mr. Nixon makes this charge despite his own failure to state his position. Each time the press has forecast a significant civil rights statement by Mr. Nixon in the South what has come out has been States rights.
Mr. Nixon likes to repeat that "everybody is aware of the strong convictions" he has on this issue. But I have been unable to find a statement of those convictions in any of his southern speeches. Instead he tells his southern - not his northern - audiences that he does not "believe in coming into the South and speaking in a way that will make the issue more difficult to solve" - that he favors "an honest program" and that the proposals in the Democratic civil rights platform "promise far more than they could possibly produce," and would "set the cause back" since any "law that we pass in this field will only be effective as public support for that law is developed."
Certainly this does not imply support for the full constitutional rights of every American citizen. Certainly there is nothing in this statement on the inequality of opportunity which Negroes face in education, in housing and in employment. Nor do we know what Mr. Nixon thinks about the peaceful student sit-in demonstrations, a historic application in our country of the principles of nonviolence through which Mahatma Gandhi won freedom in India. In North Carolina Mr Nixon did say that sit-ins must not violate local law. The student sit-in leaders themselves protested this statement. Will Mr. Nixon modify it when he speaks in New York?
Although Mr. Nixon is critical of the Democratic program as set forth in the platform, he does not say which part of the program he dislikes. I can only assume that he opposes equal opportunity in housing and jobs, in view of his repeated votes against an effective FEPC bill, in view of his failure to use the committee which he heads to end discrimination in Government contracts and in view of his failure to support action on an Executive order ending discrimination in Federal housing programs.
One of the Nation's great newspapers, the Louisville Courier-Journal, yesterday called attention to the performance by Mr. Nixon in the South, stating: "He is clearly trying to make southern segregationists believe that he and the Republicans offer them a haven."
I challenge Mr. Nixon to state where he stands on sit-ins, to say whether he has modified his position and today favors a Fair Employment Practices Commission, to specify what portion of the Democratic platform he finds promises too much, to discuss whether he has any plans to end segregation in housing, and to tell us where he stands - with egard to the effort to grant the Attorney General additional powers in civil rights litigation as set forth in title III of the 1957 civil rights bill.
A presidential campaign in 1960 is too important and too critical to permit confusion concerning the record or the views of the candidates. I hope Mr. Nixon will set forth his views clearly and then stay with the facts.
John F. Kennedy, Statement by Senator John F. Kennedy on Vice President Nixon and Civil Rights Online by Gerhard Peters and John T. Woolley, The American Presidency Project https://www.presidency.ucsb.edu/node/274181