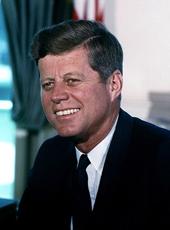 Statement by Senator John F. Kennedy, on Use of Civil Rights Legislation
The intentions of the Republicans today was to use civil rights legislation to block the enactment of bills for Federal-aid to education, housing, medical assistance to the aged and the lifting of the minimum wage. The evidence lies in the fact that it was Senator Dirksen himself last April 1 who moved to table the very Government Contracts Commission proposal which he now purports to support. He made this motion to table at a time when we had unlimited time to consider the measure. These bills - housing, education, medical help, and minimum wage - are vitally important to millions of American - Negroes and whites because they affect all those Americans who are on the lower level of our economic ladder. I strongly support civil rights and I am wholeheartedly committed to the implementation of the platform, but to use civil rights at this time as a method of defeating other bills whose passage are also essential would have meant that the session would have ended in complete failure.
The Republicans who are making this move now played the decisive part in defeating the bill then, voting 21-11 to table. That was at a time when with Republican leadership and support the bill could have passed.
I voted for cloture and supported not only these two measures proposed by Senator Dirksen but also the far more important part III power for the Attorney General to bring civil rights suits while Senator Dirksen voted against cloture against part III and against the two measures he now advances.
Moreover, the President gave no leadership and support in enacting these measures during our 9-week civil rights debate.
Instead of playing this kind of 11th-hour politics the administration could now make a real political contribution to civil rights progress by issuing the Executive order against discrimination in Federal housing programs which the Civil Rights Commission proposed 11 months ago. I renew my call on the President to issue that order. He could do it today, without jeopardizing the business of this windup session, without engaging in debate, without further delay. If he does not do it, a new Democratic administration will - just as we will promptly move ahead in carrying out the far-reaching programs of legislative and executive action adopted in the 1960 Democratic platform.
John F. Kennedy, Statement by Senator John F. Kennedy, on Use of Civil Rights Legislation Online by Gerhard Peters and John T. Woolley, The American Presidency Project https://www.presidency.ucsb.edu/node/274298