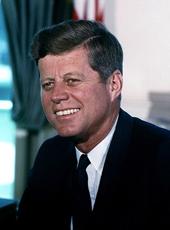 Statement of Senator John F. Kennedy on Rep. Aime J. Forand as National Chairman, Senior Citizens-For-Kennedy Committee, Washington, DC
Senator John F. Kennedy announced today that Congressman Aime J. Forand (Democrat, Rhode Island) has agreed to serve as National Chairman of the Senior Citizens-for-Kennedy Committee.
This organization, which will headquarter in Washington, D.C., will concentrate its effort on voters over 65 years of age.
The appointment of Congressman Forand, author of the Forand bill on medical care for the aged, followed a meeting between the Rhode Island Representative and Senator Kennedy at his office in Washington.
The Senior Citizens-for-Kennedy group will operate under the overall direction of the Citizens-for-Kennedy Committee.
Congressman Forand told Senator Kennedy he was pleased to accept this appointment because of the lead--
Senator Kennedy has taken in legislation for the aged. His sponsorship of the medical-care-for-the-aged bill in the Senate, his work to enact legislation to provide housing for the aged, and his work as vice chairman of the Senate Committee on the Problems of the Aged are all indications of Senator Kennedy's interest in this vital field.

Our principal objective will be to bring Senator Kennedy's record to the attention of older citizens throughout the Nation as well as to underline the objectives of the Democratic Party as evidenced by the very strong Democratic Party platform plank adopted at the national convention regarding this problem.
The Democratic platform called for an end to the neglect of our older citizens and pledged a program to effect paid-up medical insurance upon retirement, special housing initiated for older people, and support of State efforts to bring care in nursing homes and other institutions for the aged up to desirable minimum.
Senator Kennedy said he was honored to have Congressman Forand head up this vital committee.
The fact that Congressman Forand whose lifetime interest in this problem should agree to head this committee is a great honor to me. I know that Congressman Forand's direction of this citizens group will be most effective and helpful to the campaign.
Congressman Forand pointed out that in the field of the aged, Senator Kennedy has cosponsored other legislation dealing with problems of older people; introduced legislation and urged that social security payments be increased to keep pace with the cost of living. Although the Senator urged first a 10 percent increase and then an 8 percent increase in social security payments, Congress adopted a 7 percent increase in 1958; Senator Kennedy has called for more adequate lump sum death benefits to take care of the expenses of the last illness.
The Senator's speech in 1958 called attention to a "Ten-Point Bill of Rights for Older Citizens" serving as the basis of legislative action since then.
John F. Kennedy, Statement of Senator John F. Kennedy on Rep. Aime J. Forand as National Chairman, Senior Citizens-For-Kennedy Committee, Washington, DC Online by Gerhard Peters and John T. Woolley, The American Presidency Project https://www.presidency.ucsb.edu/node/274475