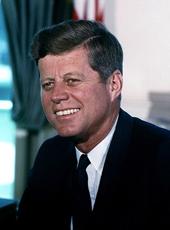 Statement of Senator John F. Kennedy to Lithuanian-American Leaders, Hyannis, MA
The United States under Democratic leadership refused to recognize the forced annexation of Lithuania by the Soviets in 1940, Senator John F. Kennedy declared today, and pledged that-
under a new Democratic administration we shall continue to refuse to recognize this forced annexation.
Addressing a group of Lithuanian-American leaders who visited with the Senator at his Hyannis Port, Mass., home, the Democratic candidate for President called attention to the 1960 Democratic platform which-
firmly states that we will not abandon peoples who are now behind the Iron Curtain through any formal approval of the status quo.
Pointing out that for 15 years, U.S. foreign correspondents were almost completely excluded from Lithuania, Latvia, and Estonia, although permitted to cover most other parts of the Soviet Union, Senator Kennedy declared that-
the annexation, through military force, of the Lithuanian people was long sought by the czars, and has finally been effected by the brute power of the Communist military forces. Our platform pledges that we will hasten, by every honorable and responsible means, the arrival of the day when the men and women of Lithuania, Latvia, and Estonia along with the freedom-loving peoples of other countries in the Baltic area, will stand again in freedom and justice.
Senator Kennedy pointed out that the legations for Lithuania and the other Baltic States continue to be listed in the 1960 diplomatic list, following the precedent established in the administration of Franklin D. Roosevelt. "The Republican administration last March, proposed a new set of immigration quotas which left out a Lithuanian quota but included a much enlarged quota for 'citizens of the U.S.S.R.,' he said.
"Why has the Republican administration decided at this late date to merge the Lithuanian quota with that of Soviet Russia ?" Senator Kennedy asked. He warned that it might be a sign that the Republican administration is about to reverse the honorable stand taken by President Roosevelt.
Senator Kennedy's guests at the conference in Hyannis Port included Dr. Pius Grigaitis, executive Secretary of the Lithuanian American Council, Chicago; Mr. A. J. Varnas, chairman of Nationality Groups for the New York City Loyalty Day Parade; Mr. John J. Grigalus of Boston, assistant attorney general of Massachusetts; and Mrs. Mary Kizis, of New York, director of the American Lithuanian Information Center.
John F. Kennedy, Statement of Senator John F. Kennedy to Lithuanian-American Leaders, Hyannis, MA Online by Gerhard Peters and John T. Woolley, The American Presidency Project https://www.presidency.ucsb.edu/node/274483