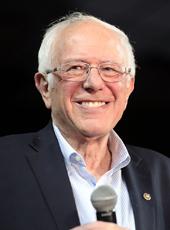 Statement by Senator Bernie Sanders: Trump Lies, Lies and Lies Again
KEOKUK, Iowa – U.S. Sen. Bernie Sanders issued the following statement on Wednesday after Republican presidential hopeful Donald Trump, in a speech in Hilton Head, South Carolina, accused Sanders of wanting to raise tax rates to 90 percent:
"It appears that Donald Trump, a pathological liar, simply cannot control himself. He lies, lies and lies again. Today, he repeated his lie that I want to raise taxes to 90 percent. Totally untrue. And PolitiFact gave Trump's same statement last October a 'Pants-on-Fire' rating.
"What is true is that at a time of massive income and wealth inequality billionaires like Trump should pay their fair share of taxes. Unlike Trump, who wants to give huge tax breaks to his fellow billionaires and large multi-national corporations, what we need is real tax reform which asks the very wealthiest people in this country and large, profitable corporations to start paying their fair share of taxes.
"It is absurd that in America today we have multi-national corporations who stash their profits in the Cayman Islands and other tax havens and, in a given year, pay nothing in federal income taxes. It is grossly unfair that there are millionaires in this country who take advantage of all kinds of loopholes and end up paying an effective tax rate lower than a middle-class worker."
Bernie Sanders, Statement by Senator Bernie Sanders: Trump Lies, Lies and Lies Again Online by Gerhard Peters and John T. Woolley, The American Presidency Project https://www.presidency.ucsb.edu/node/314355