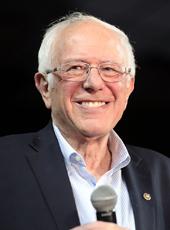 Statement by Senator Bernie Sanders: Trump is 'Getting Nervous'
BURLINGTON, Vt. – Quoting Donald Trump's assertion that wages in the United States are "too high," U.S. Sen. Bernie Sanders on Sunday said Trump's attempt to back away from his own words shows that the Republican front-runner is "getting nervous that working families are catching on" to his views.
"Donald Trump says that I'm a liar because I said he believes wages in America are too high. Really?" Sanders said in response to Trump's assertion on Twitter on Sunday. "This is what CNN reported last Nov. 12," Sanders added. "Trump insisted on Thursday that the U.S. must keep wages low in order to compete with other countries, one day after he dug in on his assertion that 'wages are too high' in America. 'Whether it's taxes or wages, if they're too high we're not going to be able to compete with other countries,' Trump said Thursday morning on Fox News. Trump first said he believes wages are 'too high' during Tuesday night's Republican debate."
"It appears that Mr. Trump is getting nervous that working families are catching on that his policies represent the interests of the billionaire class against almost everyone else. He refuses to support raising the minimum wage. He believes wages are too high and he wants to provide hundreds of billions of dollars in tax breaks to the very richest families in America. That's not an agenda that 'makes America great.' It's just another Republican billionaire wanting to make the very rich richer at the expense of working families."
Bernie Sanders, Statement by Senator Bernie Sanders: Trump is 'Getting Nervous' Online by Gerhard Peters and John T. Woolley, The American Presidency Project https://www.presidency.ucsb.edu/node/314317