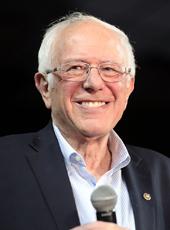 Statement by Senator Bernie Sanders on the Porter Ranch, California Gas Leak
HOOKSETT, N.H. – U.S. Sen. Bernie Sanders issued the following statement Thursday on the environmental crisis caused by a gas leak in Porter Ranch, California:
"The massive and tragic natural gas leak in Porter Ranch, California, is yet another example of the urgent national need to transition away from fossil fuels and toward energy efficiency and sustainable, renewable sources of power.
"The Porter Ranch gas leak is an absolute climate disaster. More than 87,000 metric tons of methane gas have escaped into the air. Methane traps more than 85 times the heat of carbon dioxide. The scale of the Porter Ranch leak would equal the emissions of six coal-burning power plants or an additional 7 million cars on the road. In climate terms, this leak compares with the Deepwater Horizon spill in the Gulf of Mexico.
"More directly, thousands of residents have been put out of their homes and local schools have been closed. And the health risk is real – methane exposure can cause headaches, vomiting and bloody noses.
"Today I am calling for a sense of national urgency and action to stop this leak. The EPA needs to expedite action on its investigation. Southern California Gas Company needs to do much more, apply more resources to close the leak and release complete air quality data. It is simply unacceptable that a gas leak which began last October is still poisoning the air and that the company continues to profit from the storage facility.
"It also appears fracking of nearby wells could have contributed to this disaster. It is yet another reason why I have called for a ban on all fracking. "Porter Ranch is simply one more tragic cautionary tale in our dependence on oil and gas.
"That is why I have put forth the most far-reaching climate plan of any candidate for the presidency. I opposed Keystone XL from Day One. I am the only candidate for president who has opposed the Bakken Pipeline in Iowa, and the proposed pipelines in New Hampshire and Vermont carrying fracked gas.
"I will continue to stand up to the big money and lobbying power of Big Oil and fight for a new energy system based on clean sources of power like wind and solar, creating millions of new jobs – and saving our planet."
Bernie Sanders, Statement by Senator Bernie Sanders on the Porter Ranch, California Gas Leak Online by Gerhard Peters and John T. Woolley, The American Presidency Project https://www.presidency.ucsb.edu/node/315509