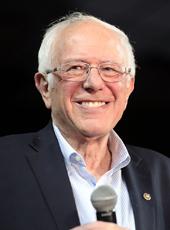 Statement by Senator Bernie Sanders on the Anniversary of Roe v. Wade
NORTH CONWAY, N.H. – U.S. Sen. Bernie Sanders issued the following statement on Friday's anniversary of the Supreme Court's decision in Roe v. Wade:
"The decision handed down by the Supreme Court 43 years ago in Roe v. Wade guaranteed a woman's right to choose. As president, and as someone who has a 100 percent pro-choice voting record in Congress, I will do everything that I can to protect and preserve a woman's right to an abortion.
"I find it unacceptable that Republicans who tell us that they want 'to get the government off our backs,' believe that the government has the right to dictate a decision for every woman in America regarding a difficult and personal choice. That right belongs to the woman, her family and her doctor – not the federal or state government.
"I join with Planned Parenthood, NARAL and all Americans who have been fighting the never-ending attacks on women's right to choose.
"As president, I will fight attempts to undercut Roe v. Wade. Women must have full control over their reproductive health in order to have full control over their lives. We must rescind the Hyde Amendment and resist attempts by states to erect roadblocks to abortion.
As president, I will appoint justices to the Supreme Court who understand the importance to all Americans of preserving Roe v. Wade and protecting the privacy rights and freedoms which that landmark ruling established.
Bernie Sanders, Statement by Senator Bernie Sanders on the Anniversary of Roe v. Wade Online by Gerhard Peters and John T. Woolley, The American Presidency Project https://www.presidency.ucsb.edu/node/315193