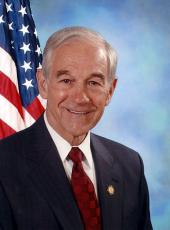 Statement by Ron Paul on S&P Downgrading of U.S. Credit Rating
"Washington must take heed, and act to restore America"
LAKE JACKSON, Texas — Today, 2012 Republican presidential candidate Ron Paul issued a statement in response to the credit rating agency Standard and Poor's decision to downgrade the United States' credit rating from AAA for the first time in history. The ratings agency has removed the United States government from its list of risk-free borrowers, citing concern about the rising burden of long-term federal debt. See comments below.
"We have just learned that for the first time in our history, the United States' top credit rating has been downgraded by credit rating agency S&P.
"We were told by proponents of increasing the debt ceiling that a credit downgrade would come if we didn't raise the limit, but the opposite was true.
"The ratings agencies had been warning us for some time that it is imperative upon the U.S. government to get its fiscal house in order and tackle its debt and deficit problem by taking serious steps.
"Unfortunately, the game in Washington has been one of partisan blaming and bipartisan out-of-control spending.
"America has been dealing with this severe economic crisis for years because the Washington establishment failed to focus on the true issues at hand: a declining dollar and out-of-control spending.
"Last November, millions of frustrated Americans let it be known that they wanted our debt crisis solved and our spending problem to end. They sent a group of new lawmakers to Washington to end business as usual.
"But the old crowd of elites still refuses to budge on doing everything it takes to get us out of this hole they've dug. Instead of real substantial budget cuts, we get minor or 'fake' cuts and budget tricks that may or may not happen far off into the future. We get a Congress that abdicates its responsibility to an unconstitutional 'Super Congress' with the power to make things worse than they already are.
"The American people realize that our nation can no longer afford to stay on this same path of reckless spending and follow the status quo of Washington. They will not tolerate any further ineffective stimulus schemes that do nothing to help our economy and actually do the opposite to the tune of trillions of dollars in money being spent and printed, and millions of people remaining unemployed and without much economic stability or security.
"If Washington refuses to take heed, there is little cause for optimism.
"Growing inflation, rising gasoline and food prices, and trillion-dollar budget deficits will all soon seem like minor issues if our nation does not immediately change our monetary and spending policies.
"We must take bold actions to reduce out-of-control government spending, and get the federal government out of the way of small business and entrepreneurs so that they can start hiring again.
"If elected President, I pledge to veto any unbalanced budget and to balance the federal budget in the first year of my term. I will fight to reduce taxes and remove unconstitutional regulations so that businesses can hire, Americans can get back to work, and our economy can truly recover."
Ron Paul, Statement by Ron Paul on S&P Downgrading of U.S. Credit Rating Online by Gerhard Peters and John T. Woolley, The American Presidency Project https://www.presidency.ucsb.edu/node/299193