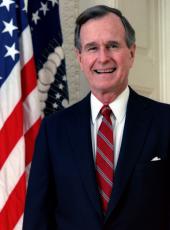 Statement by Press Secretary Fitzwater on the Resumption of Arms Control Negotiations in Vienna
Today marks the resumption in Vienna, Austria, of both the negotiations on Conventional Armed Forces in Europe (CFE), which involves all 23 nations of NATO and the Warsaw Pact, and the talks on Confidence and Security Building Measures (CSBM) among the 35 participants in the Conference on Security and Cooperation in Europe (CSCE).
In the CFE negotiations, the United States and its allies are seeking a stable and secure balance of conventional forces in Europe at reduced levels, the elimination of destabilizing disparities of forces, and the elimination of capabilities for surprise attack and large-scale offensive action. NATO's approach reflects a continuing commitment to realizing these goals through a realistic, militarily significant, and verifiable agreement. The work ahead is complex. The United States and its allies are, however, encouraged by the seriousness with which the Soviet Union and its allies have entered into this negotiation. What is needed now is for them to join NATO in exchanges that are frank and constructive and enhance the chances for success. In the CSBM's talks, NATO has tabled a set of proposals which build upon and expand the Stockholm document. The centerpiece of the NATO proposal is an annual exchange of information on military organization, manpower, and equipment in Europe, and a corresponding system to evaluate the information that is exchanged. These and other NATO proposals apply equally to all participating states, in contrast to the Eastern proposals that clearly seek to constrain NATO's ability to train and reinforce its troops.
During this second round, NATO will be elaborating the practical details of its proposals to demonstrate their effectiveness, feasibility, and the contribution they can make to furthering openness, transparency and predictability about military organization and activities in Europe.
George Bush, Statement by Press Secretary Fitzwater on the Resumption of Arms Control Negotiations in Vienna Online by Gerhard Peters and John T. Woolley, The American Presidency Project https://www.presidency.ucsb.edu/node/263421