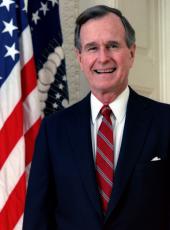 Statement by Press Secretary Fitzwater on Soviet Policy in Central America
We listened carefully to what President Gorbachev had to say in Havana yesterday. While his words about not exporting revolution are welcomed, they are not matched by deeds which would give those words credence.
Today we call upon the Soviets to cut off their half-billion-dollar annual military aid to Nicaragua. The Soviets continue to pour arms into Nicaragua, a country whose army is already larger than those of all their neighbors combined. This is hard to fathom. It is a key issue in resolving the conflict in Central America. Our bipartisan plan for peace in Central America has the support of the Central American democracies. It is time for the Soviet Union to join us in supporting that plan.
If President Gorbachev means his words, the Soviets should demonstrate through their behavior that they are adhering to this principle, and they should pressure their client states and revolutionary groups that they support to do the same. We note that the Soviets and Cuba have concluded a friendship treaty that apparently commits both parties to the peaceful resolution of conflicts in the region. We trust that the Soviets will follow these words with concrete actions.
We believe, however, that to demonstrate his commitment to Esquipulas, President Gorbachev could have proposed a cutoff of military supplies to all irregular forces in the region. That is what Esquipulas calls for: an end to outside support to the guerrilla forces. This would have suggested a "new thinking" in Central America.
The United States is in compliance with Esquipulas. We are not providing military aid to the Nicaraguan resistance. The Soviet bloc, particularly Nicaragua and Cuba, continue to supply military and logistical support to the FMLN [Farabundo Marti National Liberation Front, El Salvador] and other irregular forces in Central America.
As the President and the Secretary of State have said, we reject the idea of equivalence between legitimate U.S. interests and the Soviet presence in Central America. We provide support, including military assistance, to the democratic Governments of Central America. These governments are not involved in subversion of their neighbors.
Note: Marlin Fitzwater read the statement to reporters at 1:32 p.m. in the Briefing Room at the White House.
George Bush, Statement by Press Secretary Fitzwater on Soviet Policy in Central America Online by Gerhard Peters and John T. Woolley, The American Presidency Project https://www.presidency.ucsb.edu/node/248075