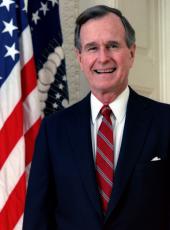 Statement by Press Secretary Fitzwater on President Bush's Telephone Conversation With President-Elect Alfredo Cristiani of El Salvador
President Bush spoke earlier today with Alfredo Cristiani, the winner of the Salvadoran Presidential election, to congratulate him on his victory. The President assured Mr. Cristiani that the United States would continue to work closely with El Salvador to help the Salvadorans create and protect a durable democracy there. Mr. Cristiani affirmed his recent public statements that he and his administration will be committed to respect for human rights. President Bush invited Mr. Cristiani to visit Washington at an early date.
On Sunday, March 19, hundreds of thousands of Salvadoran peasants, working people, business men and women, and citizens from every walk of life defied threats of death and terror from Marxist guerrillas to vote in that country's Presidential election. This was the sixth national election El Salvador has held under international supervision in the last 7 years. What we witnessed last Sunday should leave no doubt: The people of El Salvador are passionately committed to the democratic rights and liberties they have fought for and won with U.S. support in recent years.
Our policy in El Salvador, forged through bipartisan consensus and with bipartisan support, is clear: We are committed to continue democratic progress and the defense of human rights. There must be no turning back to the dark and terrible past. We expect, and the Salvadoran people clearly desire, continued steady progress toward establishing the rule of law, an effective judicial system, and security against political violence from either the right or the left. There is also a message for the FMLN [Farabundo Marti National Liberation Front] guerrillas in Sunday's election: The Salvadoran people clearly yearn for an end to the terrible violence to which they have been subjected.
The time has come to end the violence and secure an honorable peace that will protect the rights and security of all Salvadorans, regardless of their political views, to participate in a safe and fair political process. If the FMLN would embrace that goal, we are confident that this tragic war can come to an end. The President welcomes Mr. Cristiani's stated commitment to continue the dialog with the FMLN guerrillas and hopes the guerrillas accept his offer. Moreover, the guerrillas will not succeed in obtaining the political victory in the United States that they cannot win among the people of El Salvador. The United States is committed to the defense of democracy and human rights in El Salvador. So long as El Salvador continues on that path, the United States will remain a firm and steady ally.
A final
Note: Last Sunday's election heralds the final months of the Presidency of Jose Napoleon Duarte, a great patriot and champion of democracy. The President salutes President Duarte for his courage, his patriotism, his steadfast commitment to democracy, and for his enormous and lasting contribution to building an authentic democratic process in his country.
George Bush, Statement by Press Secretary Fitzwater on President Bush's Telephone Conversation With President-Elect Alfredo Cristiani of El Salvador Online by Gerhard Peters and John T. Woolley, The American Presidency Project https://www.presidency.ucsb.edu/node/247647