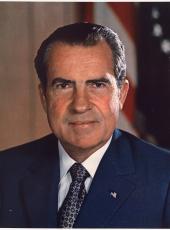 Statement on Nominating Peter G. Peterson To Be Secretary of Commerce
I AM today nominating Peter G. Peterson to be Secretary of Commerce.
Mr. Peterson has, since February of 1971, served as my Assistant for International Economic Affairs as well as Executive Director of the Council on International Economic Policy. His chief responsibility to the President has been to review and analyze the world's changing economic conditions and to translate his findings into recommended international economic policies for the decade ahead.
Prior to Mr. Peterson's undertaking this important mission he was chief executive of Bell and Howell, where he was active in all aspects of the commercial sector, both foreign and domestic.
His experience in government and his previous industrial experience in the management of businesses that are both in technological and competitive fields equip him well for the broader responsibilities to which I am nominating him.
I have proposed formation of a new Department of Economic Affairs where all of the various economic activities of the executive branch can be brought together. One of Mr. Peterson's assignments will be to bring leadership to this reorganization effort. I know he shares my concern for the success of this undertaking.
Because the competition in today's world is so intense and so demanding of domestic economic dynamism, I am asking Mr. Peterson, as the new Secretary of Commerce, to focus major attention and energy on the ways in which America's competitiveness and productivity can be improved in the years ahead. Toward that goal, I am asking him to assume the chairmanship of the National Commission on Productivity.
Facing, as we are, a new competition in a new world, we can be satisfied with nothing less than a new prosperity.--without inflation, without war, with high productivity and full employment. It will not be easy but, with a revitalization of America's competitive spirit, it can and will be done. I have every confidence that Mr. Peterson will do much to help bring our Nation closer to these goals.
Note: On February 29, 1972, Mr. Peterson was sworn in as Secretary of Commerce in a ceremony at the White House.
Richard Nixon, Statement on Nominating Peter G. Peterson To Be Secretary of Commerce Online by Gerhard Peters and John T. Woolley, The American Presidency Project https://www.presidency.ucsb.edu/node/254704