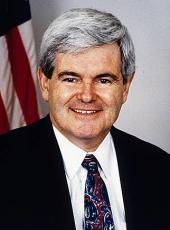 Statement by Newt Gingrich Calling on Obama To Renounce Anti-Israel Remarks By Members Of His Administration
New York, NY — Republican Presidential candidate Newt Gingrich released the following statement responding to remarks by Obama Defense Secretary Leon Panetta and Belgium Ambassador Howard Gutman blaming Israeli policy for anti-Semitism and the ongoing terrorist attacks against Israel by Palestinian terrorists:
"President Obama claims he has done 'more for the security of the state of Israel than any previous administration.' Perhaps some of his top officials missed that message."

Gingrich notes: "Barack Obama must tell the American people today whether he condemns or condones the deeply wrong statements by his Secretary of Defense and Ambassador to Belgium. We have the right to know whether Secretary Panetta's harsh criticism of Israel is merely his own personal opinion, or a reflection of the policy of his Commander in Chief.

"I have already called for the President to fire Ambassador Gutman due to his repugnant statements. On Monday, the Administration defended Gutman's remarks. So I also call on President Obama to answer today whether Gutman speaks for himself, or, as the United States' top official in Belgium, Gutman is speaking on behalf of the White House.

"The American people deserve to know today: Is it now permissible for American officials to flout official US policy publicly, or do Panetta and Gutman speak for the entire Administration?"
Background:
On Friday, December 2nd, in remarks at the Brookings Institution's Saban Forum in Washington, Obama's Secretary of Defense Leon Panetta blamed Israel for the current impasse in the peace process.
Despite fierce anti-Israel posturing by Turkey and outright violence against Israeli citizens in Cairo, Panetta said it was incumbent upon Israel to "reach out and mend fences" with its hostile neighbors.
And although the Palestinian leadership continues to stonewall the peace process by refusing to negotiate with Israel and pursuing statehood unilaterally at the United Nations, Panetta badgered Israel to "just get to the damn table. Just get to the table."
This came just days after Howard Gutman, the US Ambassador to Belgium, told an audience that Israel is responsible for Muslim anti-Semitism throughout the world today.
On Saturday, December 3rd, Newt called for the President to fire Gutman for being so wrong about anti-Semitism. (Twitter)
Newt Gingrich, Statement by Newt Gingrich Calling on Obama To Renounce Anti-Israel Remarks By Members Of His Administration Online by Gerhard Peters and John T. Woolley, The American Presidency Project https://www.presidency.ucsb.edu/node/298262